Vocational College UGM proudly presents a Summer Course for foreign and domestic participants starting from 3 July to 29 August 2023 (Each course for 2 weeks of intensive study). This program has 7 courses: 6 (six) courses taught in-person at campus and 1 (one) course is taught online. Students can select one of following courses based on their field and interests, including:
EXCEL: Indonesian Culture
ECO-ENTREPRENEUR (Banking and Service Industry Digitalization in Indonesia)
Digital Transformation: Lecture and Workshop (online)
Tropical Agrosilvopasture for Sustainable Nature-Based Product Development
Infrastructure Management
Digital Manufacturing: A Short Course
GIS Technology for Disaster Management
The topic of the course is based on the latest issues on existing problems in Indonesia. The aim is to introduce participants to the development of technology, tourism, culture, and industry in Indonesia, especially Yogyakarta.
This Summer Course can be an excellent way for participants to enhance their education and achieve their academic goals. Participants will get many benefits as a reward knowledge in accordance with their fields, get to know Indonesian culture, field trips to destinations or several areas in Yogyakarta, and get a certificate as rewards for taking part in the Summer Course 2023.
Participants can apply for a Summer Course at Vocational College UGM by entering the admission website: www.admission.ugm.ac.id/registration. The program fee for each Summer Course at Vocational College UGM is USD 100 (IDR 1,500,000). The payment can be made online through the UGM Admission System. All instructions and requirements can be seen on the Admission System website.
Vocational College UGM also provides UGM Student Dormitory as an accommodation for participants who wish to stay during Summer Course. This accommodation will be charged an additional fee consisting of one room for two persons. Dormitory booking must be made a month before the departure by contacting via Email oia.sv@ugm.ac.id. Participants will be contacted by the committee prior to their departure later.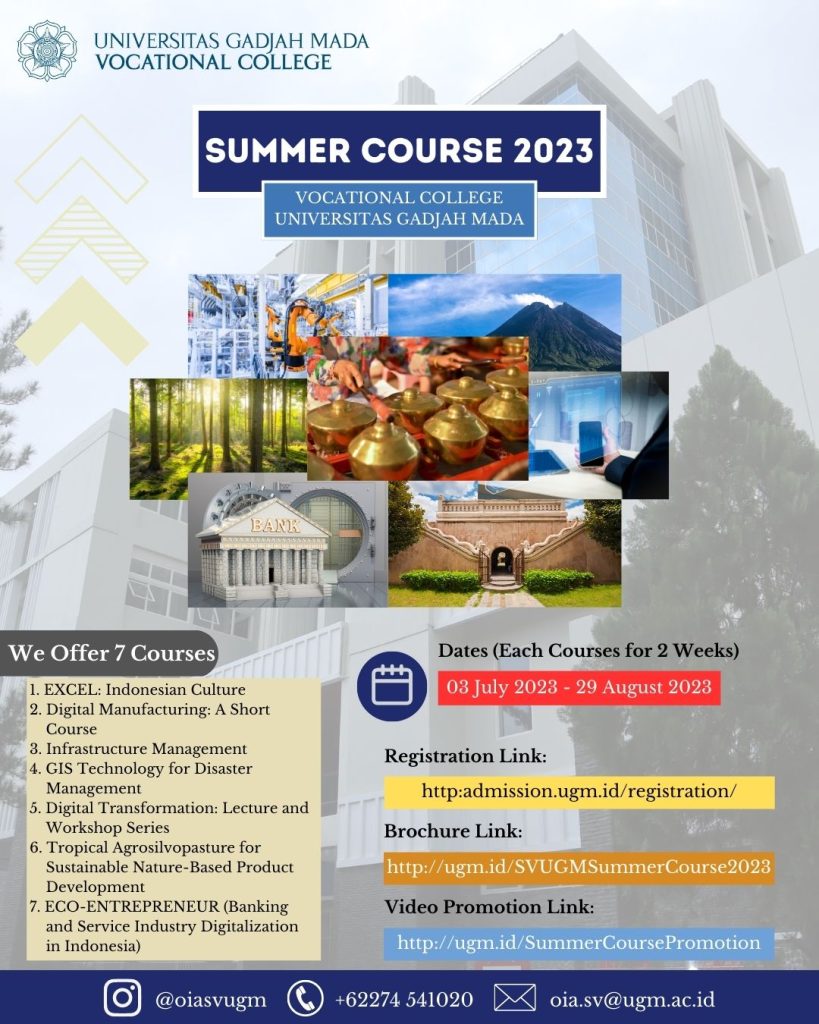 For further information please contact us:
Dhemaz (Mr.) / Tyas (Ms.)
Phone +62274-541020
Office: International Affairs of Vocational College UGM
Address: Teaching Industry Learning Center of Vocational College UGM
Jl. Cemara, Blimbingsari, Caturtunggal, Depok, Sleman, Yogyakarta, Indonesia 55281.
E-mail: oia.sv@ugm.ac.id
Website: www.sv.ugm.ac.id
You can also access the brochure by clicking on http://ugm.id/SVUGMSummerCourse2023 and the Video Promotion on http://ugm.id/SummerCoursePromotion.