Outgoing Mobility Programs
Kantor Urusan Internasional Universitas Gadjah Mada memberikan kesempatan kepada teman-teman mahasiswa UGM untuk mendapatkan tambahan pengalaman International Exposure melalui berbagai macam program, baik itu berbayar atau pun dengan beasiswa.
Program yang kami tawarkan sebagian besar merupakan penawaran dari mitra universitas UGM di luar negeri yang setiap tahun semakin banyak. Kami mengelola program sbb:
Student Exchange Program dengan Beasiswa (penawaran khusus dari Mitra Universitas Luar Negeri)
Student Exchange Program based on Agreement UGM dengan Mitra Universitas Luar Negeri (Tuition Waived)
Winter – Summer Program dan Short Program lainnya
Informasi secara rutin kami update di website dan media sosial Kantor Urusan Internasional.
---
The Office of International Affairs of Gadjah Mada University provides an opportunity for UGM students to gain an International Exposure experience through various programs, whether self-funded or scholarships.
The programs we offer are mostly from UGM university partners abroad which is increasing annually. We manage and coordinate the following programs:
Student Exchange Program with Scholarships (special offers from Partners of Foreign Universities)
UGM Student Exchange Program based on Agreement with Partners of Foreign Universities (Tuition Waived)
Winter – Summer Program and other Short Programs
We regularly update information on websites and social media of the Office of International Affairs.
---
The list of Student Exchange Agreements between UGM and Partner Universities is here.
Download more information on Scholarship and International Exposure here.
Mobility Procedures
Exchange By Agreement
Outgoing Mobility Procedures
Prosedur Pelayanan dan Pengurusan Beasiswa Umum, Program Kerjasama di bidang Mobilitas, Student Exchange tingkat University to University (U to U)
Universitas partner university (univ dari luar negeri) menawarkan program beasiswa baik berbentuk student exchange atau program lain (summer school, seminar, short term, training dll) untuk mahasiswa dan atau beasiswa untuk dosen ditawarkan melalui Rektor UGM.
Informasi beasiswa tersebut oleh Rektor diteruskan ke Subdit Kerja Sama Internasional (KUI).
KUI memproses beasiswa/tawaran: dipelajari kemudian dibuatkan surat pengantar atau diupload pada website oia.ugm.ac.id untuk selanjutnya dikirim dan disebarluaskan ke Fakultas dan/atau melalui sarana komunikasi/media informasi lainnya.
Fakultas menerima tawaran beasiswa untuk diproses dan disebarluaskan kepada staff dan mahasiswa sesuai target beasiswa yang tercantum dalam informasi.
Aplikan (staff/mahasiswa) meminta surat pencalonan (rekomendasi) dari Dekan atau Wadek dengan menyertakan kelengkapan berkas yang akan diteruskan ke KUI/universitas.
Jika berkas yang bersangkutan belum lengkap oleh fakultas, aplikan dimohon untuk melengkapi terlebih dahulu/berkas kembali ke aplikan untuk dilengkapi, jika berkas sudah lengkap aplikan bisa mengirimkan aplikasi sendiri atau lewat fakultas ke KUI.
Setelah berkas pencalonan/aplikasi sudah sampai ke KUI, KUI memproses seleksi berkas, kemudian jika diperlukan akan memproses seleksi interview/leaderless group discussion (LGD).
Hasil seleksi internal akan dilanjutkan dengan proses pencalonan/nominasi, disertakan surat untuk diteruskan kepada pemberi informasi tawaran beasiswa (universitas luar negeri).
Universitas pemberi beasiswa memproses berkas untuk diseleksi. Setelah selesai seleksi berkas, universitas luar negeri/pemberi beasiswa menyampaikan hasil seleksi diteruskan ke KUI/universitas.
UGM/KUI menerima hasil seleksi untuk diteruskan kepada aplikan.
Aplikan menerima pengumuman hasil seleksi beasiswa untuk proses keberangkatan ke LN.
Aplikan mengurus administrasi proses pemberangkatan dan pelaksanaan program langsung dengan host university/pemberi beasiswa. KUI mendampingi jika ada permasalahan dalam perjalanan proses tersebut.
Pelaksanaan program oleh Aplikan. KUI mendampingi jika ada permasalahan dalam perjalanan proses tersebut.
Selesai program oleh Aplikan. Menyerahkan laporan kembali ke KUI, memproses pengaktifan di Fakultas dan bagi yang melakukan exchange program wajib memproses transfer credit di Fakultas masing-masing sebagai laporan UGM ke host university. Download format laporan: Form Student Report Outgoing Mobility-UGM
Persyaratan program pertukaran (Exchange Program) dengan credit transfer adalah:
Seluruh mahasiswa UGM minimal semester 3 – 6, jenjang S1 dan S2 saat pelaksanaan program
Masih terdaftar sebagai mahasiswa aktif waktu aplikasi dan saat pelaksanaan program (tidak cuti)
Minimal IPK rata-rata 3.0 atau sesuai persyaratan program tujuan
Minimal TOEFL score 530, iBT 80 dan/atau IELTS 6 atau sesuai persyaratan program tujuan
Sehat dengan ada bukti dari dokter (untuk program tertentu)
Mematuhi persyaratan lain yang ditentukan
Persyaratan dokumen aplikasi yang diperlukan antara lain:
Surat pencalonan/rekomendasi/pengantar dari Dekan/Wakil Dekan Akadmik/Kemahasiswaan ditujukan kepada Kepala Subdit. Kerja Sama Internasional
Formulir Pendaftaran yang telah diisi (jika ada)
Bagi program student exchange Surat keterangan sebagai mahasiswa dan masih aktif kuliah dalam bahasa Inggris (certificate of Enrollment)
Pasfoto berwarna latarbelakang putih, ukuran 4 x 6 cm (jika ada)
CV terbaru/Daftar Riwayat Hidup
Ijasah terakhir (untuk program degree)
Transkrip nilai yang terakhir
Surat rekomendasi dari Fakultas/Professor
Surat penerimaan (LoA- Letter of Acceptance) dari host (program degree)
Sertifikat kesehatan (surat bukti sehat dari dokter)
Sertifikat kemampuan berbahasa asing (disesuaikan negara tujuan) dan/atau Bahasa Inggris (iBT/IELTS Score)
Confirmation Letter of Participation (download)
Learning Agreement bagi yang akan apply Exchange Program with Scholarship karena diharuskan untuk memproses transfer kredit (download)
Persyaratan lain menyesuaikan informasi penawaran yang ada
Prosedur Pengunduran Diri/Withdrawal dari Program Exchange (setelah proses nominasi/penerimaan oleh host dan saat program)
Mahasiswa membuat surat pernyataan pengunduran diri dengan alasan yang jelas (akademik/financial/lainnya) dan mengajukan surat tersebut kepada Jurusan/Fakultas yang menominasikan anda ke universitas dengan ditembuskan ke KUI UGM. Contoh surat bisa diunduh disini.
Jurusan/Fakultas yang menominasikan membuat surat permohonan pengunduran diri anda kepada universitas untuk kemudian kami sampaikan secara resmi kepada partner. Contoh surat bisa diunduh disini.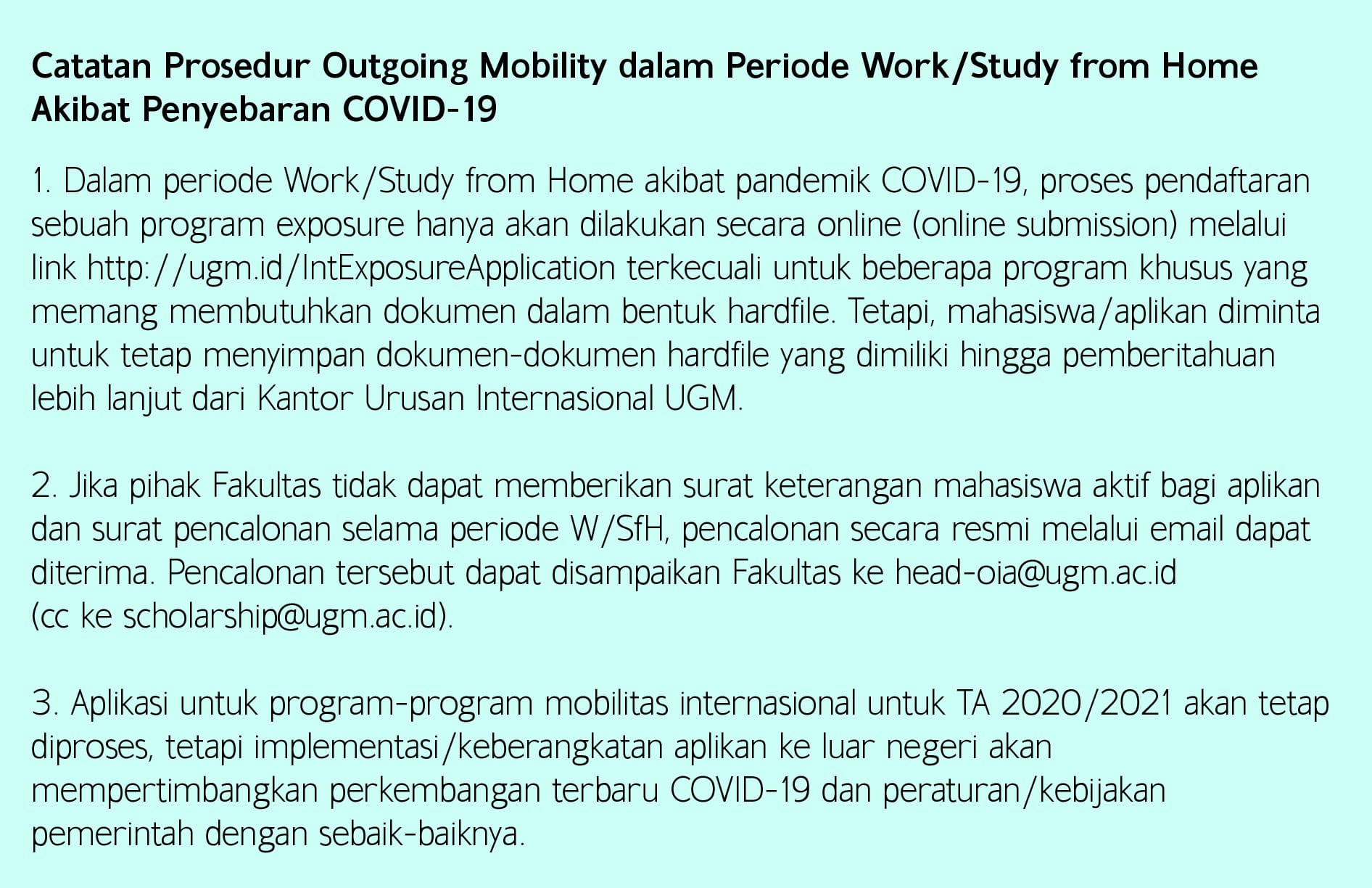 Student Exchange Program by Agreement
Nomination of students to partners under University-based Agreement must go through the Office of International Affairs at the University level with the following requirements:
Enrolled as an active student of UGM during application and program exchange
Students shall pay the prevalent tuition fee to the home institution or according to the MoU between UGM and the partner university, while the tuition fee at the partner university is waived.
3 – 6th semester student (2nd – 3rd year student)
Minimum obtained credits: 60 credits
Have a minimum TOEFL Score of 550, iBT 80 or IELTS Score 6.5 or according to the required score by the partner university
Have minimum cumulative Grade Point Average (GPA) of 3.00 or according to required score by the partner university
Recommendation letter from academic supervisor
Recommendation/Nomination letter from the Faculty (Dean/Vice Dean of Academic Affairs)
Follow all the regulations which have been set by UGM and the partner university
Follow the selection process and nominated officially by the Office of the International Affairs UGM
Quotas of students nominated/accepted per semester/academic year differs for each partner, according to agreement and/or mutual consent.
Students are prohibited to apply for more than 1 exchange program at once and are advise to wait until the selection process is final to proceed application for another exchange program (if not accepted/selected)
List of Student Exchange Agreements between UGM and Partner Universities, please find here.
Procedures:
Complete the requirements of the partner university Student Exchange Program. Please check the website of the Student Exchange Program of the host university you are interested to apply for their procedures and requirements.
Submit to the Office of International Affairs along with additional requirements from UGM:

Letter of Nomination from Faculty (addressed to the Head of Office of International Affairs UGM)
Letter of Enrollment from Faculty
Curriculum Vitae
Motivation Letter
Official Academic Transcript (legalized)
Colored Copy of Passport
English language proficiency certificate (type of certificate accepted depends on the host university requirements)
Confirmation Letter of Participation (download)

Deadline of submission at OIA for Exchange Program under Agreements are usually within 2-3 weeks before the deadline of the host university.
Submit the application documents through OIA online submission link: http://ugm.id/IntExposureApplication
OIA will evaluate your application and process the selection.
Once you are selected as a Nominated Student, OIA will send an official nomination to the host university.
The FINAL decision from the host university.