Program Description:
The 4th ASEAN Youth Initiatives Empowerment Program (AYIEP) – Human Rights Research in ASEAN is a comprehensive training program designed to equip young academics and researchers with the necessary skills and knowledge to conduct human rights research in Southeast Asia. Hosted by the ASEAN Studies Center at Universitas Gadjah Mada, Indonesia, the program aims to advance human rights research and address knowledge gaps in human rights issues prevalent in the region.
The primary objectives of the AYIEP include providing a tailored curriculum developed in consultation with experts to deliver practical and theoretical knowledge on human rights research methodologies, as well as fostering a network of young academics and researchers committed to pioneering human rights studies in ASEAN.
To ensure the success of the project, we are seeking partnerships with organizations committed to promoting human rights research and capacity building in the ASEAN region. Partners can contribute to the project through curriculum design, mentor coordination, event organization, and funding support. By joining forces, we can collectively work towards empowering the next generation of human rights researchers and advocates, contributing to a brighter future for human rights protection and promotion in Southeast Asia.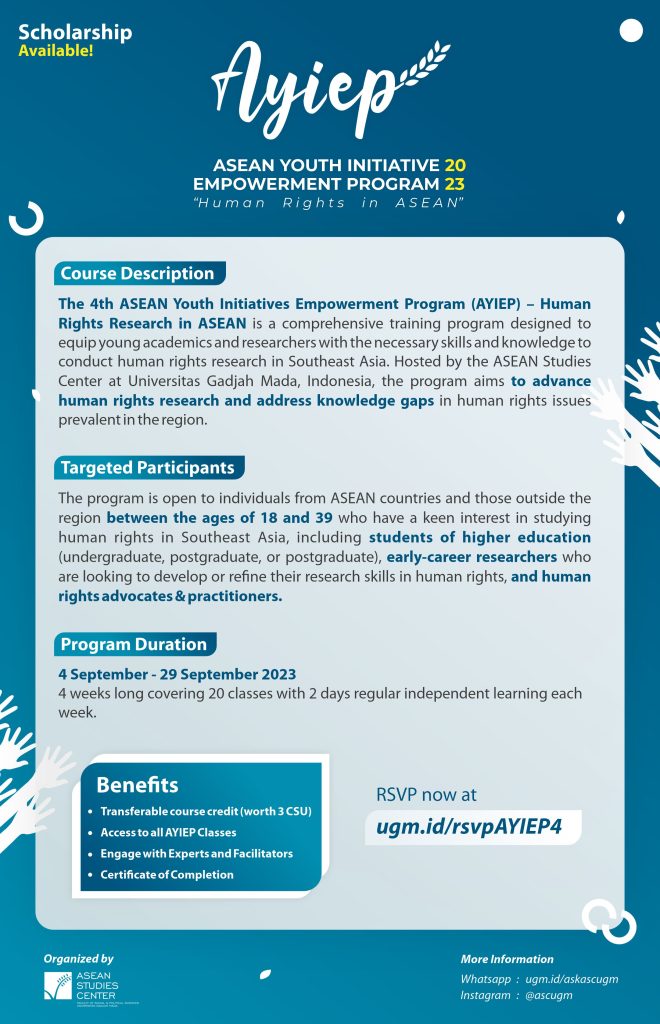 Registration Period:
June 2023 – August 2023
Starting Date:
4th September 2023
Contact Person:
Muhammad Diaz Kurniawan
Email: muhammad.diaz.k@ugm.ac.id
WhatsApp: +62 811 2552 225
For more information refer to the link below: