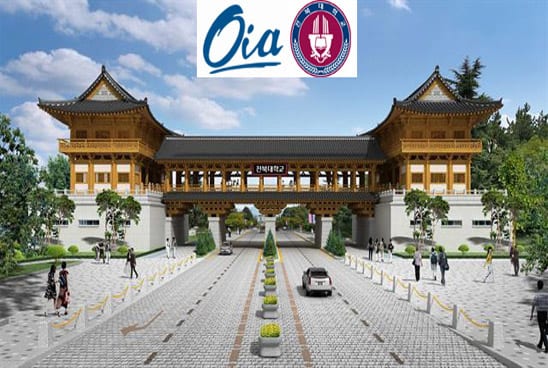 [Partial Scholarship Offered]
Warm greetings from Jeonbuk National University(JBNU), Republic of Korea!
Jeonbuk National University (JBNU; 전북대학교; 全北大學校; Jeonbuk Daehakgyo) formerly called Chonbuk National University (CBNU) is located in the historical city of Jeonju, Republic of Korea. It was founded in 1947 by the provincial fund within the framework of the Korean national university system, following the liberation of the country.
JBNU has grown to 17 colleges (including Faculty of Public Policy and Jimmy Carter School of International Studies) and 14 graduate schools (one general, nine specialized and four professional schools). For approximately 32,000 students, and 2,400 full-time and part-time professors (as of October 2016), Jeonbuk National University provides with high-quality educational, research and support facilities, cooperating with various institutions worldwide.
We are pleased to invite students from Universitas Gadjah Mada for the Spring 2020 Inbound Exchange Program. In this regard, please, find the following documents attached as the guideline.
Scholarship Benefits (support concept)
University tuition is exempted.
Based on the agreement with UGM, the dormitory fee is exempted, and daily meals provided on weekdays.
Students must prepare their own international travel expenses (include visas and other preparation).
2020 Guidelines for Inbound  Exchange Students (download)
List Courses Offered in English (http://ugm.id/JBNUCList2020)
Required Documents
Motivation Letter/Personal Statement
Self-Introduction
Study Plan
Official Transcript
Curriculum Vitae
Certificate of English Proficiency (Min. Score of TOEFL – ITP=530, iBT 80 or IELTS 6.0)
Letter of Nomination from faculty (*addressed to Head of Office of International Affairs)
Certificate of Enrollment from Faculty
Letter of Recommendation/Reference from Academic Advisor
Colored Copy of Passport
Passport-size Photos (4 pieces, 3.5 x 4.5 cm, white background color, taken within the past three months)
Confirmation Letter of Participation (download)

Certificate of Tuberculosis/

X-Ray Tuberculosis Test Result
(*It must be a result after January 1, 2019;  A person who proved positive from test cannot enter this country; If you already submit to embassy for visa issuing, it doesn't need to be submitted)
Please send all documents above in 2 hard copies to the Office of International Affairs, UGM (Bulaksumur Block F-12) and 1 softcopy *(Combined in 1 PDF Format) to email: scholarship@ugm.ac.id. no later than November 15, 2019.