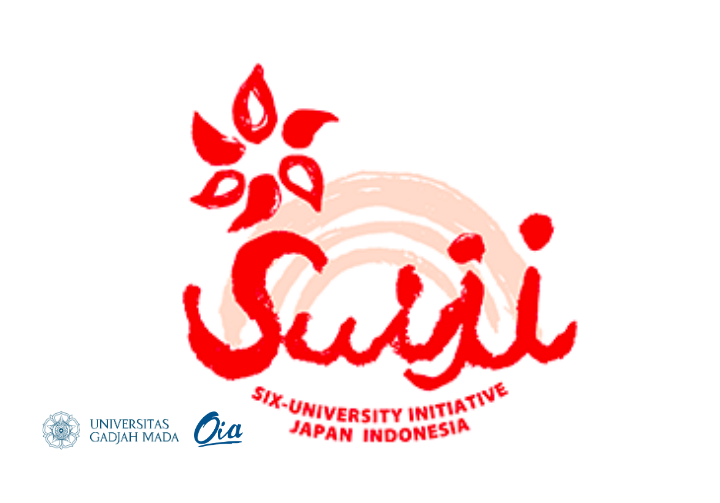 Greetings From SUIJI!
Six University Initiative Japan-Indonesia Or SUIJI consortium consists of 3 universities in
Japan and 3 universities in Indonesia: Ehime University, Kochi University, Kagawa
University, UGM, IPB, and UNHAS. These universities are organizing Joint Degree for
Master Student (JP-MS) for S-2 students from UGM's Agrocomplex and Joint Program for
Doctor Student (JP-DC) for S-3 students from UGM's Agrocomplex. The length of the
program is 4 months to 1 year (for JP-MS) and 1 year (for JP-DC), with activities in the form
of lectures and research in Japan (at one of the three Japanese universities) with costs borne
by SUIJI. Faculty of Agricultural Technology (FTP) is the SUIJI coordinator for UGM. In
2023, UGM is allocated 3 master students (2 reserves) and 1 doctoral student (1 reserve) from
the Agrocomplex.
Requirements
Graduate (S2):
1. Actively enrolled as graduate student (S2) of UGM in the Agrocomplex Cluster
(Faculty of Agricultural Technology, Faculty of Agriculture, Faculty of Forestry,
Faculty of Veterinary Medicine, Faculty of Animal Sciences)
2. Completed at least one semester with a minimum GPA of 3.25 (include English
transcript in pdf format)
3. Taken the thesis proposal exam/seminar
4. TOEFL score of at least 450 or equivalent (include score report in pdf format)
5. Submit Curriculum Vitae in English (in pdf format)
6. Letter of permission from Dean of Faculty and parents/guardians to participate in the
program (can be sent later in pdf format)
7. Fill out the Registration Form (sent in excel format, download registration form &
JASSO GPA guide from ugm.id/suijijpmsreg2023)
8. Find a suitable professor in Japan and contact via email and express interest in
research under his/her guidance (send the proof of email in pdf format, list of SUIJI-
JP-MS 2023 prospective professors ugm.id/suijijpmsspv2023)
9. Willing to cover Japan Indonesia airfare (round-trip) and insurance
10. Able to work in a team, friendly, and hardworking
11. Pass the desk evaluation and interview test
Postgraduate (S3):
1. Actively enrolled as postgraduate student (S-3) of UGM in the Agrocomplex Cluster
(Faculty of Agricultural Technology, Faculty of Agriculture, Faculty of Forestry,
Faculty of Veterinary Medicine, Faculty of Animal Sciences)
2. Completed at least one semester with a minimum GPA of 3.25 (include English
transcript in pdf format)
3. Taken the comprehensive examination/dissertation proposal
4. TOEFL score of at least 450 or equivalent (include score report in pdf format)
5. Submit Curriculum Vitae in English (in pdf format)
6. Letter of permission from the Dean of Faculty and parents/guardians to participate in
the program (can be sent later in pdf format)
7. Fill out the Registration Form (sent in excel format, download registration form &
JASSO GPA guide ugm.id/suijijpdcreg2023)
8. Find a suitable professor in Japan and contact via email and express interest in
research under his/her guidance (send the proof of email in pdf format, list of SUIJI-
JP-DC 2023 prospective professors ugm.id/suijijpdcspv2023)
9. Willing to cover Japan Indonesia airfare (round-trip) and insurance
10. Able to work in a team, friendly, and hardworking
11. Pass the desk evaluation and interview
Facilities provided
1. Tuition and research fees from university in Japan
2. Living expenses in Japan from JASSO-JAPAN of 80,000 Yen/Month
3. Financial aid for visa application from each faculty (terms and conditions from each
faculty)
4. Transcripts and certificates from university in Japan
Important dates
25 September 2023 : Application deadline
25–26 September 2023 : Interview selection
27 September 2023 : Announcement of nominated candidates
Early 2024 : Departure to Japan
Contact Person
Interested applicants can send the requirements (soft file) via email to
yusakti.rizki.b@ugm.ac.id, with the email subject format:
For graduate students (S2): [SUIJI JP MS 2023] Faculty of Origin_Full Name
For postgraduate students (S3): [SUIJI JP DC 2023] Faculty of Origin_Full Name
Deadline for submitting the documents is Monday, September 25, 2023 at 16:00 WIB.
For more information/questions, contact Mr. Yusakti (Pengelola Administrasi Kerja Sama
Luar Negeri FTP UGM) at +6285229313678 (WhatsApp) or email
yusakti.rizki.b@ugm.ac.id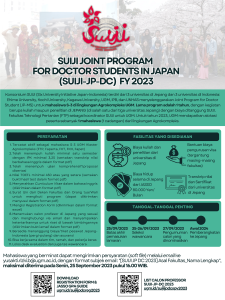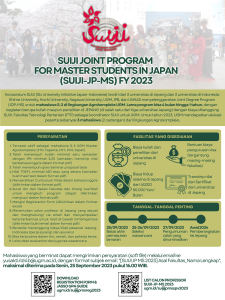 SUIJI Joint Program for Master Students in Japan (SUIJI-JP-Ms) poster
SUIJI Joint Program for Doctor Students (SUIJI-JP-Dc) in  Japan poster