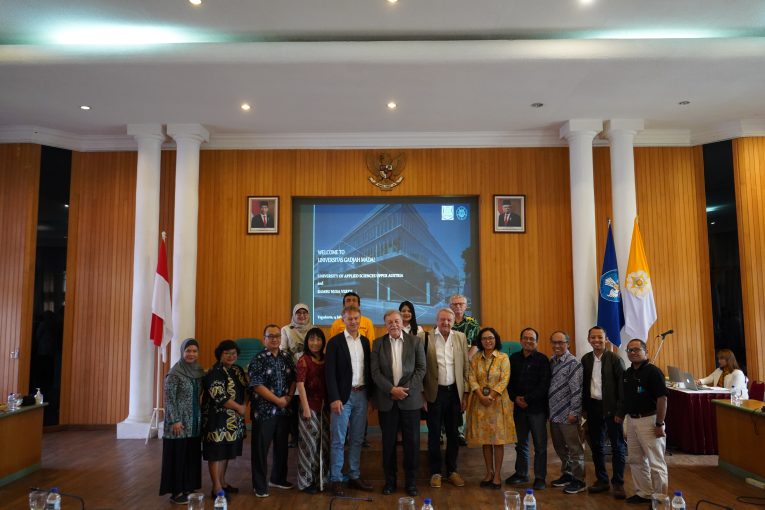 Dr. Gerald Reisinger (President/CEO of UASUA), Ing. DI (FH) Werner Pamminger, MBA. (CEO of Business Development of UASUA), Prof. Dr. Peter Kremser (Representative in Indonesia of UASUA), and Dr. Marc Peeters (owner of BNV) paid a visit to UGM on Friday, July 14, 2023. They were cordially welcomed by Ignatius Susatyo Wijoyo, S.E., M.M., Vice Rector for Research, Business Development and Partnerships, Prof. Dr. Puji Astuti, S.Si., M.Sc., Apt., Director of Partnerships and Global Relations, and representatives from Vocational School, Faculty of Agriculture, Faculty of Forestry, Faculty of Biology, Faculty of Economics and Business, Faculty of Mathematics and Natural Sciences, Agrotechnology Innovation Center, Biotechnology Study Center, Biotechnology Study Program, and Directorate of Research and Community Service.
"Vocational School focuses on preparing students for working and implementing what they learn in a practical way. A great example of this is when we sent students for internship at a manufacturing company in Purwakarta where they developed a software program to help the company grow. Basically, that is what we can do. We can send students to your company or university to have an internship or apprenticeship for 1 or 2 semesters and they can do something for your company (or university)," said Dr. Endang Soelistyowati, M.Pd., Vice Dean of Cooperation and Alumni, Vocational School to the delegates of UASUA.
Setting up a student exchange program with UASUA may pose some challenges as most of the courses in UASUA are taught in German. "We try to make students familiar with the German language because one of the goals of studying in Austria is the connection with the European industries," said Dr. Gerald Reisinger. Having said that, UGM and UASUA will explore possible areas where both universities can collaborate on internship programs along with double degree and summer school programs.
Faculty of Agriculture also touched on potential areas of collaboration with BNV to integrate bamboo into agricultural activities for conserving water and soil. UASUA, BNV, and UGM will also cooperatively look into the prospects for research collaboration involving start-ups, students, and community services.
"What we are especially looking for at the moment are people from the healthcare system, engineering, and IT. We are also starting a program to bring in international talents to Austria for a certain period of time because demographic is not working too well for us (as for most Western European countries), but it can be very beneficial for people to spend a certain period of their time in their life in our economy, especially in the field of technology and engineering," said Werner Pamminger.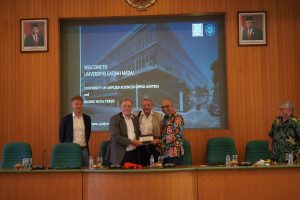 Concluding the meeting with a token exchange and photo session, UGM will look forward to the visit of Vice President for International Relations of UASUA in October 2023 for a more in-depth discussion between faculties.
Red: Angely/OIA