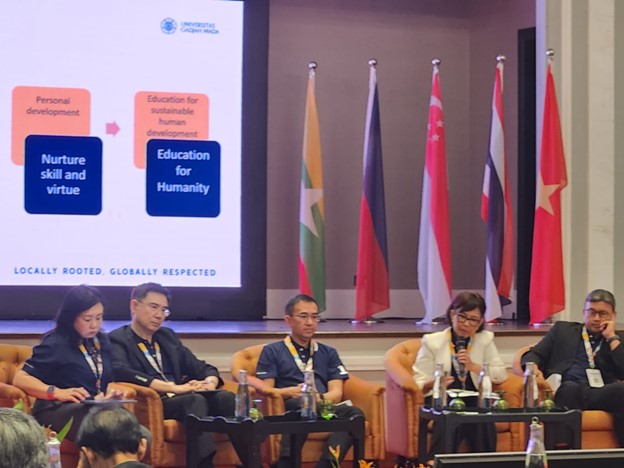 Universitas Gadjah Mada (UGM) is one of the ASEAN University Network Board of Trustees (AUN-BOT) and being part of this network since it was formed in 1995. The AUN was established to address the need for the region to quickly develop a regional identity and solidarity while promoting the fostering of ASEAN talents by creating a platform to allow the region's leading higher institutions to collaborate. Being one the AUN-BOT, the UGM's Rector and university leaderships always attend the AUN Rectors' Meeting and AUN BOT Meeting to share thoughts and insight with other members towards giving a contribution to the region's development.  The strong commitment of UGM in the network is also seen in joining most of the AUN Thematic Networks like AUN-QA, AUN-BE, AUN/SEED-Net, AUN-HRE, AUN-USR&S, AUN-ACT, AUN-EEC and many more.
This year, Rector's UGM and other university leaderships attend the 14th AUN Rectors' Meeting and the 38th AUN-BOT Meeting hosted by Universiti Malaya (UM) in Kuala Lumpur on 5 and 6 July 2023, with the theme: "Changes in Global Higher Education and How Top Universities in ASEAN Respond". In this prestigious moment, Prof. Ova Emilia presents and shares her thought about "Higher Education Transformation Strategies to Enhance the Quality of Human Resources".
Starting with her thoughts about the disruption in higher education in facing the high demand of industry and community function, we should rethink the current model of higher education. She further said, "Success in the future won't be defined by a degree but by potential and ability to learn, apply, and adapt". One of these abilities could be achieved by learning from the "People". She shares that UGM through the Student Community Service program as a compulsory course for UGM's students offers the chance to enable them to work with the actual problem of the people, face reality, learn how to maintain a humanity approach, and build a network for the future. Learning from the "People" will equip the students to be prepared to become the future generation in the borderless world.
At the end of her presentation, Prof. Ova Emilia concludes various efforts that can be made by universities to strengthen the process of achieving superior human resources – people's expectations in four points, first, improving the quality of educators through sustainable professional development, second, designing an education system and curriculum that is relevant to future needs, through programs empowering skills, critical, creative, and collaborative thinking, third, open learning opportunities for students to develop their knowledge, skills, and personal character for sustainable human development, and fourth, establishing network. (Adhe/OIA)