On May 29th, 2023, UGM received a visit from Université Le Havre Normandie, France. Professor Jean-Noël Castorio, First Vice President of Université Le Havre Normandie was warmly welcomed by Mr. Ignatius Susatyo Wijoyo, S.E., M.M., Vice Rector for Research, Business Development and Partnerships, Ir. Wiratni, S.T., M.T., Ph.D., IPM., Deputy Director of Partnerships, Alumni and Global Initiatives, and representatives from Faculty of Cultural Sciences and Faculty of Engineering.
The collaboration between UGM and Le Havre started way back in 2013 during the preparation for the 60th Asia Africa Conference, where UGM became the host. The first MoU was signed in 2014 and renewed in 2017. However, the agreement renewal, which was supposed to happen in 2020, got postponed due to the pandemic and was eventually resumed this year. The agreement renewal includes signing the International Inter-Institution Cooperation Agreement between Université Le Havre Normandie and UGM and the Agreement on Student Exchange between UGM and Université Le Havre Normandie, each signed in three languages—English, Indonesian, and French.
In his remarks, Mr. Ignatius emphasized on keeping our hands dirty in real works for real impacts, "The Memorandum of Understanding is not the most crucial aspect of partnership. It is the implementation. So, I'd want to use this opportunity to encourage our UGM faculties and research centers to follow through on this MOU's implementation."
The objective for the renewed partnership is to achieve possible synergies, particularly in the fields of Logistics, Supply Chain Management, Renewable Energy, Civil Engineering, and French Literature. Professor Jean Noël Castorio said that one of the goals is to strengthen the field of research and agreed that there should be a reciprocal relationship in the exchange of students, lecturers, and researchers between UGM and Le Havre in relevant fields.
The meeting also touched on the plan to bring about reciprocity by holding an info session to introduce both universities to French and Indonesian students. There are also other possible collaborations with Vocational School and study programs in UGM such as Renewable Energy, Civil Engineering, Environmental Engineering, French Literature, Archeology, and others. The meeting was then closed with a token exchange and photo session.
"We think that with good relationships and a desire to collaborate, we can convert possibilities and opportunities into rewards," stated Mr. Ignatius, closing his remarks.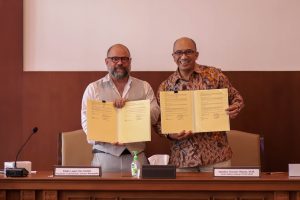 red: Angely