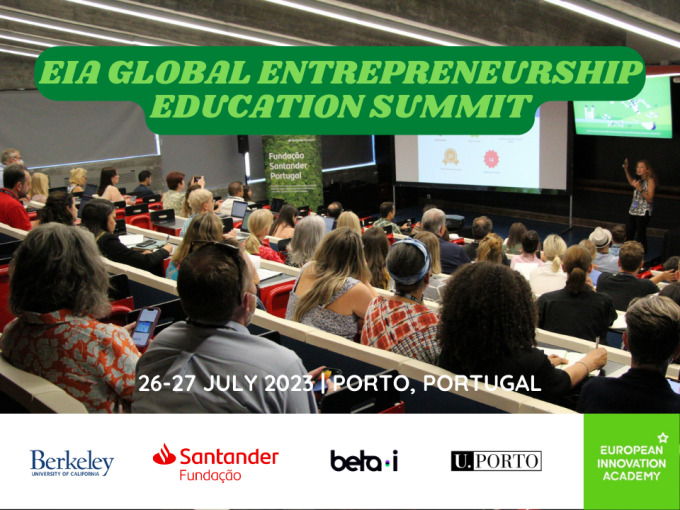 The University of Porto invites you to join the event in collaboration with European Innovation Academy – Global Entrepreneurship Education Summit (GEES). GEES is a program that brings educators from top universities worldwide to listen, compare, and share innovative strategies and methods for teaching future entrepreneurs.
EIA is excited to host the annual Global Entrepreneurship Education Summit (GEES), which brings together universities worldwide to network and share the best practices of innovative ways of teaching entrepreneurship.
The interactive conference offers insight into the world's leading entrepreneurship program and the digital champion of Europe teaching methodology, case studies from UC Berkeley, Silicon Valley, and elsewhere and gives a valuable opportunity to expand your professional network by meeting other faculty, mentors, and speakers from the world's top universities and companies.
This program is designed to support university representatives who are:
looking to enhance their university's entrepreneurship education and initiatives

committed to overcoming challenges in entrepreneurship education

seeking to expand their global network
During the two days of GEES on July 26-27, 2023, you will learn:
why innovative approaches in teaching entrepreneurship are necessary,

what methods have been proven successful,

how to maximize the student learning experience, and

how to apply innovative techniques to entrepreneurship education in practice.
As Pam Induini from UC Berkeley (GEES participant and guest speaker) said when looking back at the 2022 event:
"What a thought-provoking and motivating experience! Featuring guest speakers and attendees from both Academia and Industry who are not only teaching entrepreneurship, but founders themselves. A reimagining entrepreneurship education hands-on workshop that creatively captured the hearts and minds of all of us – and provided a roadmap for execution. It was such an honor being a part of this hands-on, multi-faceted event. Already looking forward to GEES 2023!"
To get a better sense of the event, you can watch the highlights of the 2022 program here. To register, please visit the GEES website.