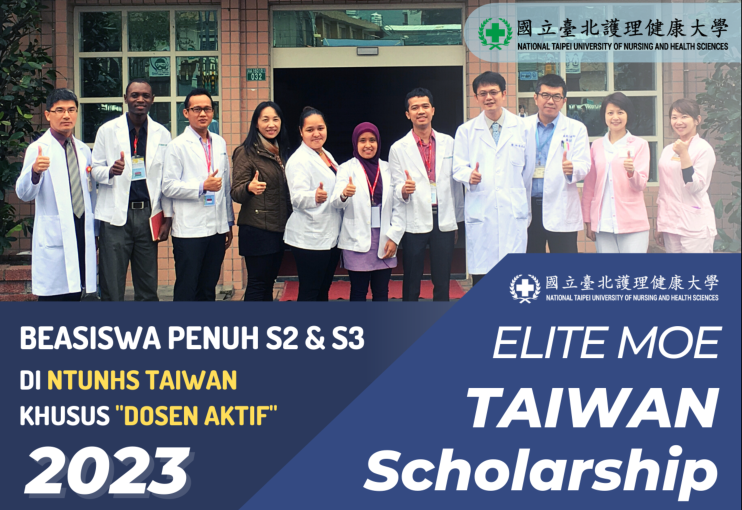 Warm greetings from NTUNHS (National Taipei University of Nursing and Health Sciences) Taiwan!
NTUNHS Taiwan offers scholarships for doctoral and postgraduate programs specifically for active lecturers for the Fall 2023 (September 2023) academic year. This scholarship is named ELITE Scholarship 2023, which is given by the Ministry of Education of Taiwan (MOE). ELITE Scholarship covers tuition fees, health insurance, educational support books, resident VISA, and a monthly allowance of NTD$ 18,000/month (USD$ 7,200/year). The duration of this scholarship is a maximum of 3 years for the doctoral program and 2 years for the master's program.
The requirement to apply for this scholarship is "Active Lecturer" at Indonesian universities or institutions that have been selected by the Ministry of Education of Taiwan (MOE Taiwan), Gadjah Mada University is one of them (a complete list of selected MOE universities is attached), however, there is also a special scholarship quota for universities/agencies outside the list of institutions set by MOE.
Programs/departments at NTUNHS that you can take: Nursing (S2 & S3), Midwifery (S2 & S3), Sports Science (S2), Health Management (S2), Montessori Program (S2), and Health Technology/Informatics (S2). Complete information related to the program is attached to this article.
If you are interested in applying for this scholarship program, please fill out and complete the registration form for batch 1: https://bit.ly/eliteNTUNHS.
The registration deadline for batch 1 is until November 22, 2022.
If you need information regarding the scholarship program, please contact:
ARIC – Project Manager of NTUNHS Representative Office in Indonesia – TIHEC (email: tihec.info@gmail.com; WhatsApp: 0816-234-221 – Office Hour Monday~Friday 08.00~15.30 WIB)
EUNIECE LIU – NTUNHS International and Cross-Strait Education Center (Email: ntunhs.admission@gmail.com, ntunhs.application@gmail.com)
Program brochures: