Program Description
Inclusive development has become a popular concept that offers an alternative approach to development. The concept is promoted as a result of a deep awareness of the inadequacy of the mainstream development approach that heavily relies on economic growth and wealth accumulation.
Regardless many positive transformations, the economic growth approach is insufficient to tackle global inequality. Oxfam (2018) reported that 82% of wealth accumulated in 2017 is owned by 1% of the world's population. Behind those super-rich people are impoverished and vulnerable workers, especially women who receive meagre wages or even unpaid. This inequality becomes more profound with the outbreak of the Covid-19 pandemic. It is estimated that the world's ten super-rich people can increase their wealth from $700 million to $1.5 trillion; on the other hand, 99% of the world's population experience an economic deterioration and 160 million falls into poverty.
The discussion on inclusion issues requires a multi-disciplinary perspective. Pouw dan Gupta (2017) argue that development should be more inclusive, emphasizing on welfare and protection of the service ecosystem and environment. The move towards a more equal practice requires a redefinition political priorities, including in the context of Anthropocene and power relations. Following this argument, a series of discussions based on multi-dimensional understandings (i.e., sociology, economics, politics, law, culture, health, religion/spirituality, psychology, education, gender, ecology and technology) are needed as stepping stone for comprehensive awareness and practices.
Using inclusive development main theme, the summer course will be divided into four module components: theories and methodologies of inclusive development; main issues of inclusive development; measuring and evaluating inclusive development; and inclusive development practices in the Global South.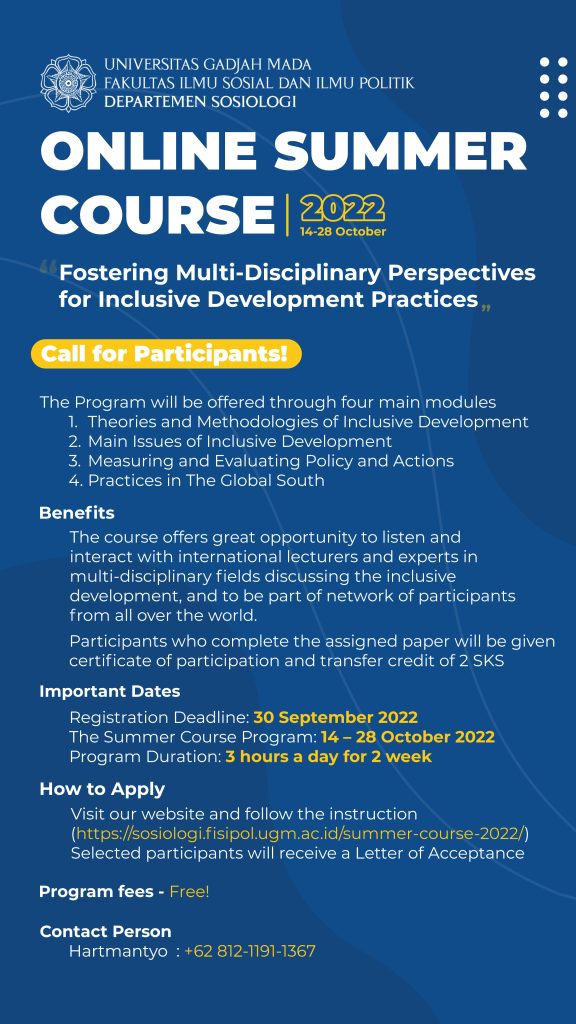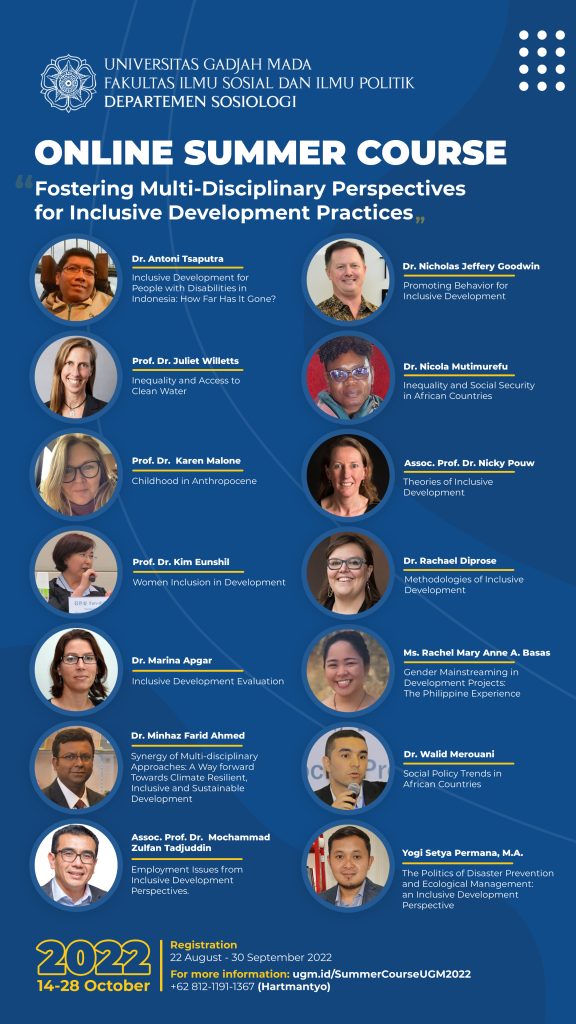 Participant
This summer course is open for Indonesian and international participants. The priority will be given to postgraduate students, early career researchers, and professionals in the development sector. The maximum number of participants to 80 people.
For more information please visit here
Contact information
Email: postgrad.sociology.fisipol@ugm.ac.id
WhatsApp: +62 812-1191-1367 (Hartmantyo)