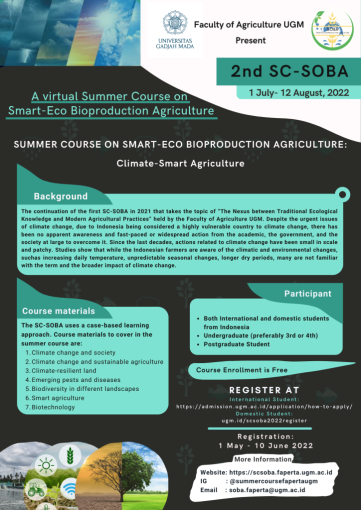 Overview
The summer course on Smart-eco Bioproduction Agriculture (SC-SOBA) with the topic of "Climate-Smart Agriculture" is the continuation of the first SC-SOBA in 2021 that take the topic of "The Nexus between Traditional Ecological Knowledge and Modern Agricultural Practices" held by the Faculty of Agriculture UGM.
The 2nd SC-SOBA is expectedly to gather lecturers, professors, researchers and students from various fields in agriculture to discuss traditional knowledge and modern, plus scientific technology that potentially become strategies in mitigating and adapting to climate change.
The course material include; Climate Change and Society, Climate Change and Sustainable Agriculture, Climate-resilient Land, Emerging Pests and Diseases, Biodiversity in Different Landscape, Smart Agriculture, and Biotechnology.
Registration: 1 May – 10 June 2022
Date of the program: 1 July – 12 August 2022
Learning resources are a combination of lecturers, 'virtual field excursion' (i.e., video from the field), assignments, and a group project.
Contact

Diah Fitria Widhiningsih, S.P., M.Sc.
+6285645952667
diah.fitria.w@ugm.ac.id
Email: soba.faperta@ugm.ac.id
Instagram : https://www.instagram.com/summercoursefapertaugm/
For further information visit here