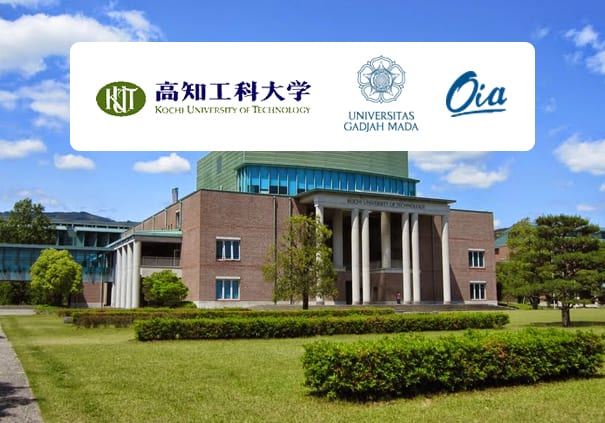 Warm greetings from Kochi University of Technology in Japan!
The Special Scholarship Program (SSP) was established in 2003 in order to support the development of advanced research at the university through the contribution of highly capable doctoral students. Through the 3-year curriculum, Kochi University of Technology (KUT) provides comprehensive education in the multidisciplinary environment. Every year, KUT enrolls approximately 15 selected doctoral students to work in specific research projects. Each student pursues a doctoral course in English while at the same time assisting his/her host professor in his/her research projects and receiving monthly payment in return for his/her contribution to the projects. This program is for those who have strong intention to engage in his/her research projects for the whole three years acquiring profound knowledge and skill and ability to become a full-fledged researcher, and aspire to satisfy the degree requirements accordingly. It is designed to help diligent and talented students with limited financial resources, especially foreign students from emerging countries, who are ready to devote themselves to the expected research and related studies for the coming three years so as to finally accomplish their academic goal.
We are pleased to inform you that the application for the Kochi University of Technology Special Scholarship Program 2021​ is now open for Universitas Gadjah Mada students.
Fields of Research Projects
Environmental Systems Engineering (Kami Campus)

Intelligent Mechanical Systems Engineering (Kami Campus)

Electronic and Photonic Systems Engineering (Kami Campus)

Information Systems Engineering (Kami Campus)

Infrastructure Systems Engineering (Kami Campus)

Economics and Management (Eikokuji Campus)
Benefits
Exemption from 30,000 yen entrance examination fee, 300,000 yen enrollment fee and 535,800 yen/year tuition fee.

To support living expenses, 150,000 yen/month is paid as salary for research project work.

150,000 yen is provided for travel and initial living costs (given only to international applicants who are living outside Japan).
Eligibility
To have permission from the leader of the applicant's preferred SSP project to apply for that project.

To hold a degree from an accredited institution comparable to the master's degree offered at KUT after 18 years of education, or to be scheduled to acquire such a degree before the KUT enrollment date.

To be 35 years old or under at the time of enrollment, in principle.

To have an excellent academic record and strong bachelor's and master's degrees from reputable universities.

To have the intention, adequate knowledge and research skill to work in the research project.

To have high English proficiency.
Application Procedure