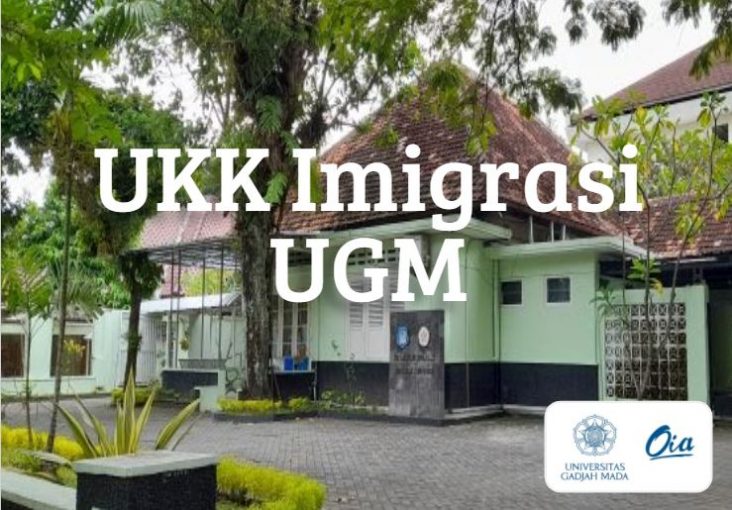 (English)
2021's New Arrival: Welcoming the Ease of Immigration-Documents-Processing with the Opening of UKK Imigrasi UGM (Immigration Office Chapter UGM)!
Located right on the left side of the Office of International Affairs UGM at Bulaksumur st. Block F-12, UKK Imigrasi UGM is here and near to provide immigration services related to many kinds of administrative affairs for the academic community of UGM. As the result of collaboration between the Regional Office of the Ministry of Law and Human Rights (Kementerian Hukum dan HAM) Daerah Istimewa Yogyakarta and Universitas Gadjah Mada (UGM), on November 25, 2020, UKK Imigrasi UGM just went through a soft-launching phase which took place on the same day as the launching of Eazy Passport, the nation-wide collective passport-making service program released by the General Directorate of Immigration of the Ministry of Law and Human Rights.
The opening of UKK Imigrasi UGM had been planned by the Regional Office of the Ministry of Law and Human Rights (Kementerian Hukum dan HAM) and Universitas Gadjah Mada (UGM) in the past for the initial purpose of improving the accessibility of immigration services for the academic community of UGM, mainly the international students, lecturers and researchers residing in Yogyakarta. Several forms of immigration service provided by UKK Imigrasi UGM include new passport issuance, passport's validity period extension, to Visit/Stay Permit Processing which service will be actively provided once immigration and physical mobility restart normally.
Despite not being officially launched due to the restrictive COVID-19 pandemic situations, UKK Imigrasi UGM has been operating in limited capacity—temporarily serving in the scope of the nearest academic community of UGM—while maintaining to follow the health protocols set by the National Health Ministry. By adjusting to the demands of immigration service provision above and the general mitigation measures of COVID-19 pandemic, UKK Imigrasi UGM still currently operates with at least 5 employees consisting of 1 Supervisor and 4 Staffs.
The service of UKK Imigrasi UGM, however, is still being delivered optimally in spite of the limited employees' number. The customers to UKK Imigrasi UGM's service have also responded positively to the quality of service by the office, one of them being the Faculty of Engineering UGM's Vice Dean for Research, Community Service and Cooperation, Dr. Ir. Sugeng Sapto Surjono, S.T., M.T., IPU., ASEAN Eng. who had accessed the service of passport's validity period extension. Thanks to the quick and effective service delivery and the ease of administrative fee payment via mobile banking, Mr. Surjono expressed his satisfaction with the office's presence.
Additionally, UGM international students, namely Sundas Ejaz, Master Program of Clinical Pharmacy student, and Dobrin Bugov, Master Program of International Relations student shared the similar level of content. Ejaz gave her positive feedback due to the great service and the office's location proximity to where she stays. Aside from the professionalism and effectivity demonstrated in the service, for Bugov who had accessed the service of Visa extension at UKK Imigrasi UGM, his good response was due to the safety and comfort served at UKK Imigrasi UGM, especially concerning the COVID-19 pandemic situations which require physical distancing at public spaces. Another positive feedback was expressed by Annisa Nur Purnama Sari from the Office of International Affairs UGM who stated that with the presence of UKK Imigrasi UGM, she no longer had to go to the often-overcrowded Immigration Office of Yogyakarta at Jalan Raya Solo-Yogyakarta to take care of her passport issuance.
With the optimum and high-quality service, UKK Imigrasi UGM is ready to provide services for many kinds of immigration-related business, especially for the nearest academic community of UGM, in a short amount of time!
(Bahasa)
'Yang Baru di 2021': Menyambut Kemudahan Mengurus Dokumen Keimigrasian dengan Hadirnya UKK Imigrasi UGM!
Berlokasi tepat di sisi kiri Kantor Urusan Internasional UGM di Jalan Bulaksumur Blok F-12, Unit Kerja Kantor (UKK) Imigrasi UGM kini hadir lebih dekat untuk melayani berbagai macam keperluan administratif keimigrasian di lingkungan kampus UGM. Sebagai wujud kerja sama antara Kantor Wilayah Kementerian Hukum dan Hak Asasi Manusia (Kemenkumham) Daerah Istimewa Yogyakarta dan Universitas Gadjah Mada (UGM), pada tanggal 25 November 2020 lalu, UKK Imigrasi UGM akhirnya telah melewati tahap soft launching yang bertepatan dengan penyelenggaraan program pelayanan pembuatan paspor kolektif yang diluncurkan oleh Direktorat Jenderal Imigrasi Kemenkumham, Eazy Passport.
Pembukaan UKK Imigrasi UGM ini, pada dasarnya, telah lama diinisiasi oleh Kantor Wilayah Kementerian Hukum dan Hak Asasi Manusia (Kemenkumham) Daerah Istimewa Yogyakarta dan Universitas Gadjah Mada (UGM) dengan tujuan awal untuk meningkatkan aksesibilitas pelayanan keimigrasian bagi para sivitas akademika di lingkungan UGM, utamanya para mahasiswa, dosen, maupun peneliti internasional yang berlokasi di Yogyakarta. Beberapa bentuk pelayanan yang disediakan oleh UKK Imigrasi UGM tersebut, antara lain mencakup penerbitan paspor baru, perpanjangan paspor yang habis masa berlakunya, hingga pengurusan proses Izin Kunjungan atau Izin Tinggal yang layanannya baru aktif setelah keimigrasian dan mobilitas fisik telah kembali normal.
Meskipun belum diluncurkan secara resmi akibat situasi pandemi COVID-19 yang merestriksi, UKK Imigrasi UGM telah beroperasi secara terbatas—untuk sementara dalam lingkup pelayanan untuk sivitas akademika UGM terdekat—dengan mematuhi protokol kesehatan sesuai dengan peraturan Kementerian Kesehatan. Dengan menyesuaikan kebutuhan pelayanan urusan keimigrasian di atas serta situasi mitigasi Pandemi COVID-19, saat ini, UKK Imigrasi UGM beroperasi dengan setidaknya 5 petugas yang terdiri dari 1 orang Supervisor dan 4 orang Staf.
Pelayanan oleh UKK Imigrasi UGM, bagaimanapun, tetap diberikan dengan maksimal walaupun jumlah petugas yang hadir terbatas. Para pengguna layanan UKK Imigrasi UGM telah memberikan tanggapan positif terhadap kualitas pelayanan yang diberikan, salah satunya Wakil Dekan Bidang Penelitian, Pengabdian kepada Masyarakat dan Kerja Sama Fakultas Teknik UGM, Dr. Ir. Sugeng Sapto Surjono, S.T., M.T., IPU., ASEAN Eng. yang menggunakan layanan perpanjangan masa berlaku paspor. Dengan pelayanan yang cepat dan efektif serta kemudahan dalam membayar biaya administrasi yang diperlukan dalam proses tersebut, yakni melalui mobile banking, beliau merasa puas dengan keberadaan unit kerja tersebut.
Selain itu, beberapa mahasiswa internasional UGM, di antaranya Sundas Ejaz, mahasiswi program studi Magister Farmasi Klinik, dan Dobrin Bugov, mahasiswa program studi Magister Ilmu Hubungan Internasional, turut merasakan tingkat kepuasan yang sama. Ejaz membagikan respons baiknya karena pelayanan yang sangat memuaskan serta lokasi UKK Imigrasi UGM di lingkungan kompleks UGM yang tergolong dekat dengan tempat tinggalnya. Selain profesionalisme dan efektivitas dalam pelayanan, bagi Bugov yang menggunakan layanan perpanjangan Izin Tinggal Terbatas (KITAS), kesan baiknya datang dari keamanan dan kenyamanan di kantor UKK Imigrasi UGM, khususnya dalam situasi Pandemi COVID-19 yang mengharuskan penjarakan fisik (physical distancing) di ruang publik. Tanggapan positif juga disampaikan oleh Annisa Nur Purnama Sari dari Kantor Urusan Internasional UGM yang mengungkapkan bahwa kehadiran UKK Imigrasi UGM membuatnya tak perlu jauh-jauh mengurus pembuatan paspor di Kantor Imigrasi Yogyakarta di Jalan Raya Solo-Yogyakarta yang kerap kali ramai antrian.
Dengan pelayanan yang optimal dan berkualitas, UKK Imigrasi UGM siap melayani para sivitas akademika UGM dalam menyelesaikan aneka urusan keimigrasian secara praktis dan dalam waktu singkat!