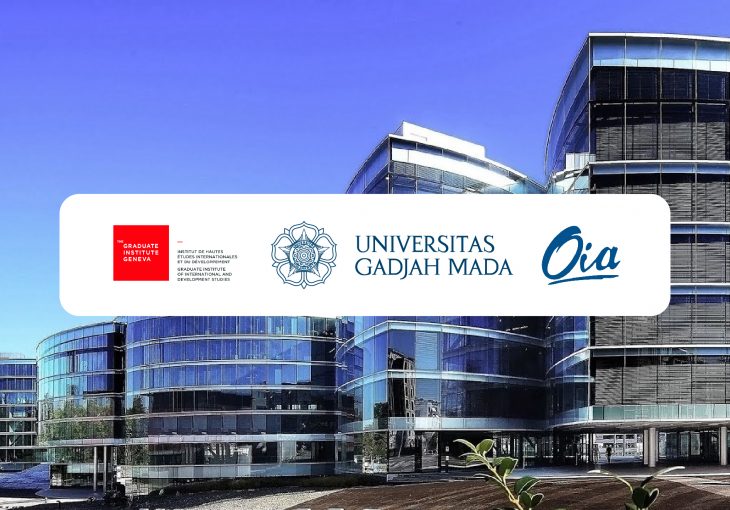 Greetings from the Graduate Institute Geneva!
The Graduate Institute Geneva (IHEID) was created in 1927 at the time of the League of Nations. It was then the first academic institution in the world entirely devoted to the study of international affairs. Its vocation is to analyze and stimulate critical thinking in the fields of international relations and development issues through its teaching (master and Ph.D. programs), research, executive education, and public events.
We are excited to announce that IHEID has adapted its Summer Programmes to an online format allowing students from all over the world to gain insight into International Affairs, the United Nations, as it marks its 75th anniversary and Global Challenges from wherever they are. IHEID invites Universitas Gadjah Mada students to explore key issues in the contemporary world by attending lectures and workshops. Each week is directed by a renowned faculty member and practitioners from International Organisations in Geneva.
Course participants can obtain 2 ECTS for each week.
The following programs are open to anyone with a demonstrated interest in global affairs.
TWO DISTINCT SUMMER PROGRAMMES
15 June – 10 July 2020 (Mondays through Wednesdays, half days)
Students interested in International Affairs may register for one, two, three, or four weeks, focusing on the following topics:
Week 1: The Global Environmental Crisis
Week 2: Humanitarianism
Week 3: Security and Insecurity Today
Week 4: Governance of Global Health in the 21st Century
Applications open until 1 June
17 – 19 August 2020 (Mondays to Wednesdays, half days)
As the United Nations marks its 75th anniversary in 2020, IHEID is excited to offer a special edition of its Summer Programme on the United Nations at 75: Managing Global Trends and Challenges. This intensive program provides an introduction to the United Nations system, its core mission, and how it works with other stakeholders to manage global trends and challenges. In this edition IHEID will also take stock of the current and future state of the United Nations and global cooperation in the areas of peace and security, migration and displacement, health risks and governance, climate and the environment, digital cooperation, and cyber-security, and sustainable development. Students will discuss and analyze key issues with professors from the Graduate Institute and specialists from the United Nations system, civil society, and government representatives.
Applications open until 1 July
Schedules
To accommodate different time zones, participants can choose between morning or afternoon live online classes (Geneva time).
Tuition fees (special offer for your students)
Students from our partner institutions benefit from a 20% discount off the tariff below.
International Affairs: CHF 300.- per week | CHF 1,000.- for the four weeks
United Nations and Global challenges: CHF 300.-
Required Documents
Application Package
Letter of Enrollment from Faculty
Letter of Nomination from Faculty (addressed to the Head of Office of International Affairs UGM)
Application Procedure
Finish the application to IHEID Online Summer Programs 2020 directly. (Application is possible via IHEID Online Summer Programs)
Submit all documents to the Office of International Affairs, UGM for official nomination.
OIA will send your nomination to IHEID.
THE FINAL decision from IHEID.
IMPORTANT NOTES:
Submission of all documents to the Office of International Affairs UGM is not mandatory. It is only for students who would like to get the official nomination/recommendation from UGM. Therefore, the submission to IHEID directly is enough. 
In case the faculty could not provide the letter of enrollment and nomination during this period, the official nomination through email from the faculty is acceptable. The official nomination could be delivered to head-oia@ugm.ac.id (cc to scholarship@ugm.ac.id)