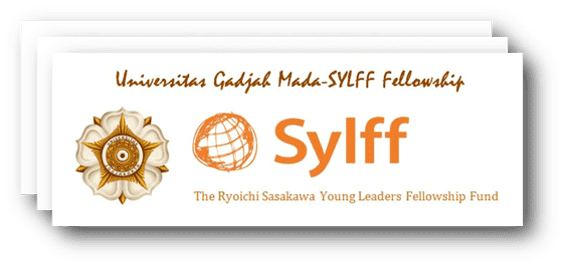 Universitas Gadjah Mada with support from The Nippon Foundation through the fellowship program known as the "Ryoichi Sasakawa Young Leaders Fellowship Fund Program" (SYLFF) is offering UGM-SYLFF Fellowship which exclusively awards shortlisted applicants to pursue the graduate program on the subject of Social Sciences and Humanities in Universitas Gadjah Mada. The UGM-SYLFF Fellowship is an innovative approach to the lasting cooperation of the UGM and Tokyo Foundation under the Sylff consortium with 69 other universities in 44 countries.
The fellowship also offers Master Program for excellent Indonesian graduates who are willing to apply to study in social sciences and humanities at Universitas Gadjah Mada.
UGM-SYLFF Fellowship offers a research-based master program for Odd Semester 2020 (entry admission August 2020) focusing on social and humanities. It will provide maximum coverage on:
Living cost, including research, printed materials and books expenses for a maximum 24 months
Settlement and departure allowances
Tuition and other academic-related fees for 4 semesters
University-based health insurance
Eligibility
Indonesian nationality
No more than 30 years old
Bachelor degree holder from UGM with honor (GPA 50 or above of 4.00 scale)
Outstanding English proficiency is proven by TOEFL ITP 500 or equivalent
Attached to university as a lecturer or a mid-career professional in higher education institution in the home country
Required Documents

Completed Online Application Form
A copy of the academic transcript and diploma/ bachelor degree from UGM
A legalized copy of TOEFL
CV or Résumé
One page letter of motivation
Research plan
Letter(s) of recommendation from academic supervisors
Endorsement letter from the university
Expected outcome:
Beside one defended thesis, the fellow and his or her promoter are required to produce, at least one (1) international publication during the fellowship.
Application Procedure
Submit the aforementioned documents to the Office of International Affairs, UGM for administration review.
OIA staff will evaluate your application.
Once you are selected as Applicants, OIA will send your official nomination to SYLFF for final selection.
The FINAL decision from SYLFF.
Please register your application and send all documents above in 
softcopy (compiled in 1 PDF File)
to 
UGM Scholarship Application Form
no later than
June 10th, 2020. 
IMPORTANT NOTES:
In the meantime, the applicants are required to keep the hard file of all documents until further notice by the Office of International Affairs.