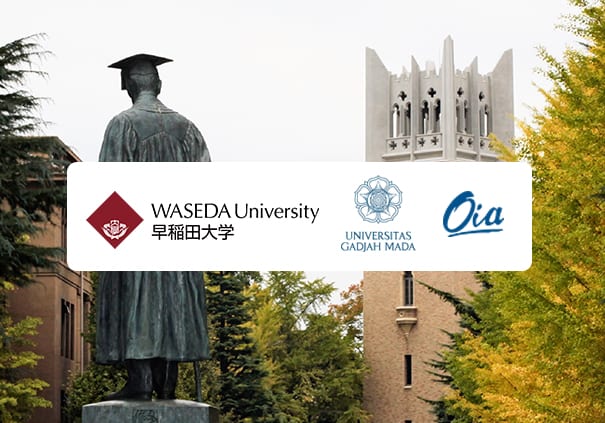 Warm greetings from Waseda University, Tokyo, Japan!
Waseda University started life as Tokyo Senmon Gakko (Tokyo College) on October 21, 1882. In the early years, it was also commonly known as the Waseda Gakko (Waseda School) or Totsuka Gakko (Totsuka School), after the location of founder Shigenobu Okuma's villa in the village of Waseda and the school's location in Totsuka Village. Around 1892, the vernacular name Waseda Gakko became prevalent, and the institution was formally renamed Waseda Daigaku (Waseda University) upon acquiring university designation in 1902.
Until now, the University has stayed true to its founding ideals, educating seven prime ministers and countless other politicians, business leaders, journalists, diplomats, scholars, scientists, inventors, actors, writers, and artists. Waseda's history and tradition are to tirelessly challenge convention, in favor of progression and innovation. By its 150th anniversary in 2032, the University has committed to expanding its leadership in Asia and around the world.
We are delighted to inform you that the Application for Waseda Summer Session 2020 is now open for Universitas Gadjah Mada students.
Waseda University started a four-week summer session in 2014. In 2019, the University welcomed about 160 international students from 83 universities in 22 different countries and regions around the world. The session is open to international students as well as Waseda students. Participants will choose 2 from 14 courses such as literature and art, business, culture, economics, history, politics, and sociology in the context of Japan and the Asia Pacific, and can earn 4 credits. The classes are taught in English by the experienced faculty members, and Japanese classes can be taken as an optional course. The University will also organize extracurricular activities such as field trips, site visits, and cultural events to experience Tokyo and Japan.
More detailed program information about courses, tuition & fees is available via the link below: http://waseda–summer.com/
Eligibility
undergraduate students (S1)
graduate students (S2/S3)
Required Documents
Application Package
Letter of Enrollment from Faculty
Letter of Nomination from Faculty (addressed to the Head of Office of International Affairs UGM)
Application Procedure
Finish the application to the Waseda Summer Session 2020 directly.
Submit all documents to the Office of International Affairs, UGM (via email scholarship@ugm.ac.id) for official nomination.
OIA will send your nomination to Waseda University.
THE FINAL decision from Waseda University.
Please send all documents above in
 1 Soft Copy (Combined in 1 PDF Format) 
to email: 
scholarship@ugm.ac.id
 no later than 
March 20th, 2020.