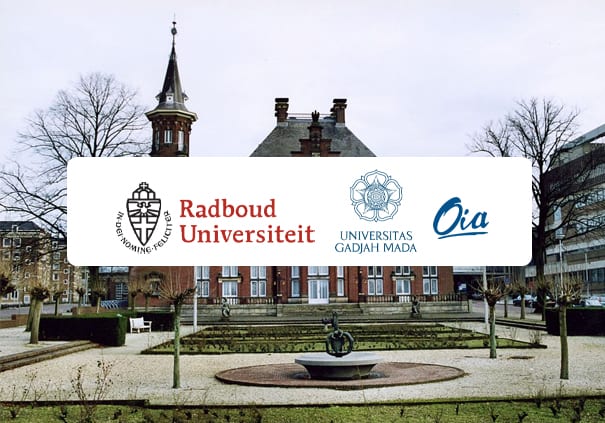 Greetings from Radboud University Nijmegen, the Netherlands!
Radboud University Nijmegen was established on 17 October 1923 under the name Catholic University Nijmegen. With their own university, Dutch Catholics sought to promote the emancipation of Roman Catholics in the Netherlands, who at that time were strongly underrepresented in public administration, the legal profession, medicine and other sectors. Today, Radboud University continues its commitment to the emancipation of certain groups. The Unversity is the best traditional, general university in the Netherlands. Two programmes have received a Top Programme designation, nine programmes are deemed the best in their field by the Keuzegids.
We are pleased to inform you that the Application for Radboud Summer School 2020 is now open for Universitas Gadjah Mada students.
Radboud Summer School is organized by Radboud University, one of the leading academic centres of excellence in the Netherlands. Over 850 participants from 75 countries joined the University in 2019 and the University received a participant rating of 8.7 out of 10. The academic courses will inspire the students and researchers, enable them to explore new scientific areas, develop their skills and expand their international network. All of its (over 60) courses are taught in English by renowned academics from its own university but also from some of its partner universities. Each year the University add exciting new courses and again the University continues with many courses that were highly evaluated by its participants.
The University offers UGM students a 25% discount on the course fee if you apply before the 1st of March 2020.
For more information
Link of the program: Click here
Email: radboudsummerschool@ru.nl
Eligibility
Vocational Students (SV)
Undergraduate Students (S1)
Graduate Students (S2/S3)
Enrolled in Universitas Gadjah Mada during the program
Required Documents
Application Package
Letter of Enrollment from Faculty
Letter of Nomination from Faculty (addressed to the Head of Office of International Affairs UGM)
Application Procedure
Finish the application to the Radboud Summer School 2020 directly.
Submit all documents to the Office of International Affairs, UGM (via email scholarship@ugm.ac.id) for official nomination.
OIA will send your official nomination to Radboud University.
THE FINAL decision from Radboud University.
Please send all documents above in
 1 Soft Copy (Combined in 1 PDF Format) 
to email: 
scholarship@ugm.ac.id
 no later than 
February 26th, 2020.