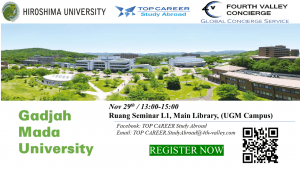 If going to Japan to study or work is your dream, this event is for you!
Hiroshima University & TOP CAREER from Japan will be holding together a seminar session at Universitas Gajah Mada this November!
This is a great opportunity to meet teachers and representatives from Hiroshima University, ask all your questions regarding studying in Japan and take the first step forward to make YOUR DREAM COME TRUE.
TOP CAREER International will be there too to show you that working in Japan is not impossible. Don't miss the chance to talk to the consultants and get tips of how to boost your career options abroad. read more