| | | |
| --- | --- | --- |
| Penyelenggara | : | Hiroshima University and TOP CAREER from Japan |
| Lokasi | : | Ruang Seminar L1, Main Library, Universitas Gadjah Mada |
| Website | : | ugm.id/hgss2018 |
| Waktu | : | Thursday, 29 November 2018 |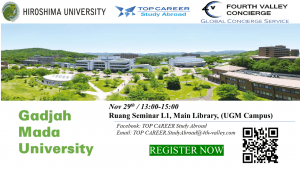 If going to Japan to study or work is your dream, this event is for you!
Hiroshima University & TOP CAREER from Japan will be holding together a seminar session at Universitas Gajah Mada this November!
This is a great opportunity to meet teachers and representatives from Hiroshima University, ask all your questions regarding studying in Japan and take the first step forward to make YOUR DREAM COME TRUE.
TOP CAREER International will be there too to show you that working in Japan is not impossible. Don't miss the chance to talk to the consultants and get tips of how to boost your career options abroad.
Seats are limited and registration is required. Register now to ensure your seat!
Register here: http://bit.ly/HU_UGM
Professors from graduate schools of Hiroshima University (HU), one of the prestigious national universities in JAPAN, are coming to Yogyakarta to introduce their Master and Doctoral courses in person to you!
List of Graduate Schools that will join seminar:
・Graduate School of Integrated Arts and Sciences
・Graduate School of Social Sciences
・Graduate School of Science
・Graduate School of Advanced Sciences of Matter
・Graduate School of Engineering
・Graduate School of Biosphere Science
・Graduate School for International Development and Cooperation
EVENT INFORMATION
Hiroshima Graduate School Seminar 2018 @Universitas Gadjah Mada
Date: November 29th, 2018
Time: 13:00 – 15:00
Venue: Ruang Seminar L1, Main Library, Universitas Gadjah Mada
Facebook event page: https://www.facebook.com/events/324704084745251/
*About Hiroshima University
Hiroshima University is a national university established in 1949, by the integration of the most prestigious universities from Hiroshima region. The university has grown and it is aiming to be a world-class hub of education and research, to foster excellent human resources to contribute to the community, and to developmentally expand science. It is one of the top Super Global Universities, a Japanese Ministry of Education program that supports domestic universities to become stronger and more globalized. Hiroshima University is already beyond many other universities when it comes to globalization: it provides extensive support to international students and offers various courses taught entirely or partly in English, from business to life sciences.
GET THIS CHANCE AND FLY TO THE WORLD!
For more information, please contact:
Email: TOPCAREER.Studyabroad@4th-valley.com/ nhu.ly@4th-valley.com
Facebook: TOP CAREER Study Abroad
Whatsapp: +84 949 662 466 (Ms.Christie)