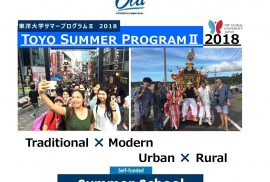 Toyo Summer Program I 2018
[This program is self-funded]
Meet some of Japan's top business minds
Explore modern and traditional culture
Experience the Japan business world firsthand
The Toyo Summer Program Ⅰ 2018 will offer participants an opportunity to immerse themselves in the unique and dynamic business world of Tokyo. Balancing stimulating classroom discussions, activities, and lectures with behind-the-scenes visits to Japanese companies, Toyo Summer Program I 2018 will give unparalleled access to the inner workings of Japan's business culture.  Participants will also experience the traditional side of Japan, taking part in a home stay in rural Ibaraki prefecture, partaking in the tea ceremony, and much more! Join us for this engaging exploration of Japan's business and cultural landscape!