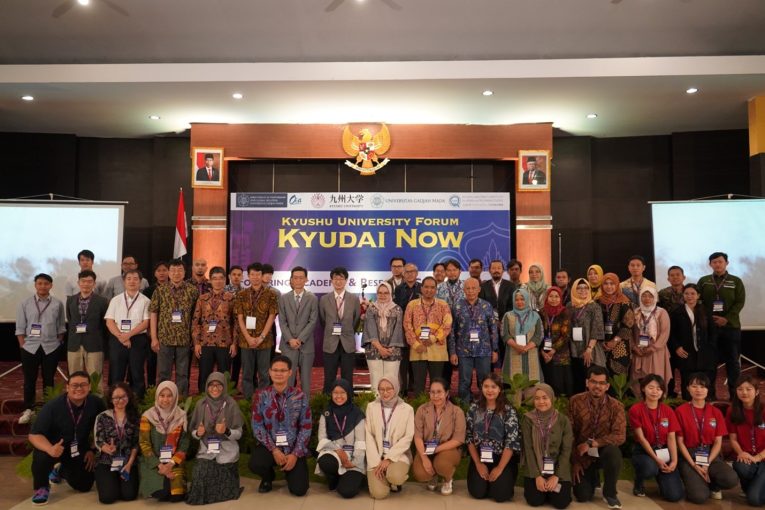 Universitas Gadjah Mada (UGM) and Kyushu University, Japan have collaborated since 2005 with many implementation programs in the field of education and research. In continuing the established collaboration to become more comprehensive and sustainable, UGM and Kyushu University conducted a joint event named "KYUDAI NOW and Summer Camp at Universitas Gadjah Mada" that was held on 28 – 30 August 2023. The event aims to share the current update of research and academic achievement of UGM and Kyushu University.
The event started with a workshop seminar "Collaborations between Universities and Society to Achieve the SDGs" on 28 August 2023 hosted by the Directorate of Community Service of UGM. Followed by visitation to a community service location on Code Riverbank and meeting the community "Pemetri Code". At the location, 8 professors and 3 students from Kyushu University visited the community to acquaint the role of the university in community empowerment to support the SDGs achievement, especially in wastewater management treatment at the municipal level through UGM's community service program. The Kyushu University's delegates also had the opportunity to discuss the project with the community "Pemetri Code".
KYUDAI NOW Forum was the main event for this program held on 29 August 2023 at the University Club Hotel of UGM with the theme of "Fostering Academic and Research Collaborations". This event opens for academic societies around Yogyakarta, especially for the Alumni of Kyushu University, researchers, staffs, and lecturers of UGM that interested in having future works or collaborations with Kyushu University. Students were also welcome with a limited capacity and around 100 participants joined this forum. Presented 11 professors in the fields of Engineering, Health, Forestry, Agriculture, and Economy from UGM and Kyushu University who shared the current issues related to SDGs. The event was opened by Prof. Akira Harata, Senior Vice President of Kyushu University, he said "Allow me to express our great appreciation to all staff and participants for preparing this fantastic venue and taking time in a very tight time to be here and connect in KYUDAI NOW to discuss further of the collaborations between UGM and Kyushu University".
Dr. Wiratni, Deputy Director of the Directorate of Partnership and Global Relations of UGM also expressed appreciation for both universities in her opening remarks, She said "We hope this event will be the beginning of more interaction between UGM and Kyushu University's scientists. The visit of Kyushu delegates to Code Riverbank yesterday exploring a special showcase project in wastewater management hopefully will give an understanding of how an affordable technology implementation in the community could improve the wastewater treatment in the riverbank community". In the evening, Kyushu invited The Alumni to join a networking party at the UC Hotel. The series of summer camp programs were closed with a courtesy meeting to discuss a potential joint summer course program between universities and faculties visitation on the next day. (Adhe/OIA)