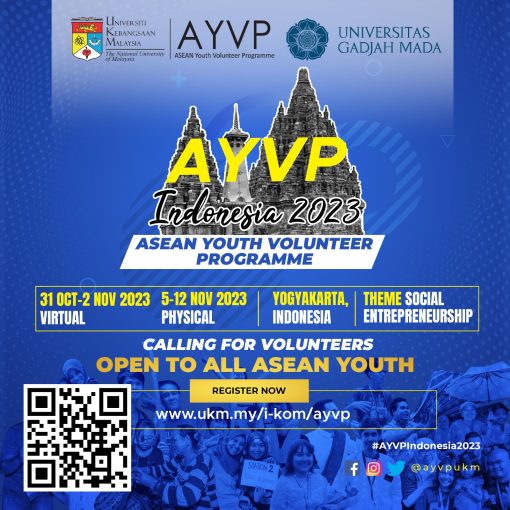 Join the ASEAN Youth Volunteer Programme (AYVP) 2023 and make a real difference in communities across Southeast Asia! This year, AYVP is back with an exciting hybrid programme co-organised by Universiti Kebangsaan Malaysia (UKM) and Universitas Gadjah Mada (UGM). Get ready for an unforgettable experience that combines online learning and hands-on community work!
The hybrid mode of AYVP 2023 will take place from 31st October to 12th November 2023. During this programme, participants will engage in a captivating theme module workshop centered around "Small Businesses on Real-life Examples of Community Initiatives & Local Resources in Yogyakarta." Through interactive sessions and virtual discussions, you will gain valuable insights into how local communities are using their resources to drive sustainable development and empower small businesses.
But the adventure doesn't end there! Once the online module is completed, you will experience exciting community immersion activities from 5th to 12th November 2023 in the enchanting city of Yogyakarta, Indonesia. Immerse yourself in the rich culture of Yogyakarta while actively contributing to community-driven projects. From supporting local entrepreneurs to participating in environmental initiatives, you will directly witness the impact of your efforts on the ground.
AYVP 2023 welcomes all ASEAN youth between the ages of 18 and 30 to apply. Whether you are a student, a young professional, or someone passionate about making a positive change, this programme is your gateway to personal growth, cross-cultural understanding, and lifelong friendships.
To find out more about AYVP 2023 and how to apply, visit our official website at www.ukm.my/i-kom/ayvp. Take the first step towards becoming a catalyst for change and join a diverse community of like-minded individuals from all over ASEAN. Together, let's create a brighter future for our region.
Don't miss this chance to be part of the ASEAN Youth Volunteer Programme 2023. Apply now and embark on a transformative journey that will leave a lasting impact on both you and the communities you serve!