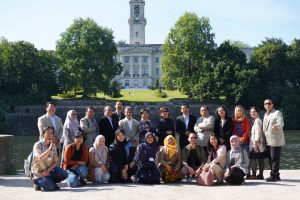 Kicking off from 6 June 2023 until 9 June 2023, a delegation from UGM, led by the Rector, Prof. dr. Ova Emilia M.Med.Ed., Sp.OG(K)., Ph.D., carried strategic missions during a series of visitation to eight existing university partners in the UK. The delegation consists of the Vice Rector for Education and Learning, Dean of Veterinary Medicine, Dean of Faculty of Social and Political Sciences, Dean of Faculty of Cultural Sciences, Dean of Faculty of Psychology, Dean of Faculty of Engineering, Dean of Vocational College, Dean of Biology, Dean of Graduate School, Director of Partnership, Alumni, Global Initiatives, and the Chair for Health Promoting University (HPU) UGM.
The visits were done from the upper part of the UK, starting from the University of Glasgow, University of Edinburgh, and the University of Dundee. They continued traveling down to the University of Birmingham, University of Leeds, University of Nottingham, Coventry University, and University of Warwick. Seven out of eight universities have been in close partnerships with UGM through student and staff exchanges, joint research, and double degree. Through these visits, UGM aims to strengthening the collaboration to more broaden possibilities such as joint supervision of post graduate studies, shared funding for double degree program, and student mobilities.  During the visit UGM also elaborate the untouched topics and areas of collaborations, including possible partnerships in creating an Institute for Future Life, as UGM's commitment to support the development of Indonesia's new capital project.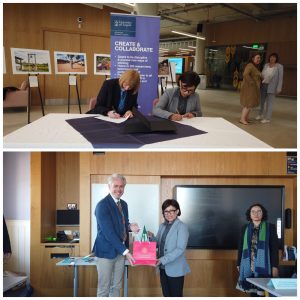 Meanwhile, UGM and the University of Dundee are still working out to develop possible opportunities for collaborations between the two. Some areas to kick off are medical education, engineering, psychology, human rights research, and summer courses with the opportunities of joint supervision of postgraduate studies, and team teaching.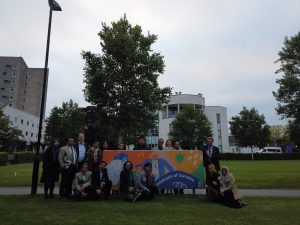 Furthermore, during the departmental meetings at each university, the participating faculties had secured some deals to follow up after the visit. To name a few, the Faculty of Cultural Sciences will be sending its lecturer to teach gamelan and other sorts of Indonesian traditional performing arts to the University of Birmingham. The Vocational College had also secured to invite an English professor from the University of Leeds to teach at its English program. On a more university-wide level, University of Warwick was ready to follow up on the upcoming Double Degree co-funding project with UGM.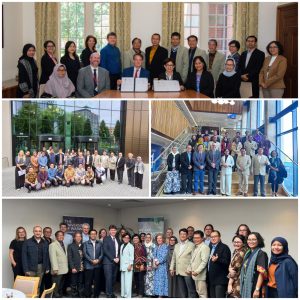 To conclude the visitation, UGM delegation attended an Alumni Meeting with more than 70 Kagama (Keluarga Gadjah Mada/the Family of Gadjah Mada) which covers the UK and Ireland. This event was held in a hybrid mode at the Indonesian Embassy in London and warmly hosted by the Ambassador of Indonesia to the UK, H.E. Desra Percaya and Kagama UK-Ireland.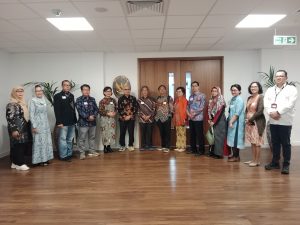 Red: Maylany/OIA