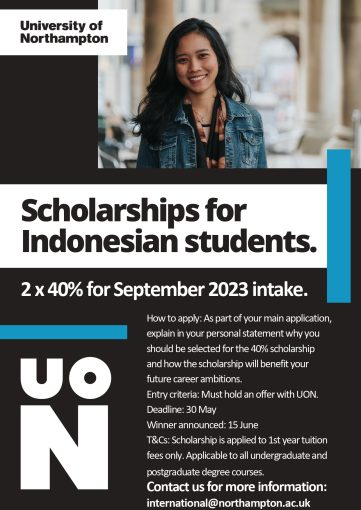 The University of Northampton is one of the youngest universities in the UK that are already leading the way in adding value to society, which they call social impact. UON has won multiple awards for their work in this area, among others, but what matters the most is ensuring that the students and graduates have the opportunity to make their mark on the world too. That's why UON was the first university in the UK to be named a Changemaker Campus in 2012.
We would like to announce that UON is offering 2 x 40% scholarships to Universitas Gadjah Mada students who want to study at UON in September 2023.  
Application Procedure
Apply through

the website

explain in your personal statement why you should be selected for the 40% scholarship and how the scholarship will benefit your future career ambitions.
Entry criteria: Must hold an offer with UON.
Deadline: 30 May
Winner announced: 15 June
T&Cs: Scholarship is applied to 1st-year tuition fees only. Applicable to all undergraduate and postgraduate degree courses.
Contact UON for more information:
international@northampton.ac.uk