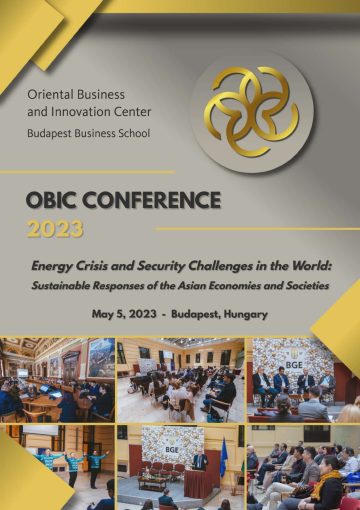 The Oriental Business and Innovation Center (OBIC) of Budapest Business School, University of Applied Sciences is pleased to invite you to participate at its sixth OBIC International Conference organized on May 5, 2023 in Budapest, Hungary.
The title of the conference:
Energy Crisis and Security Challenges in the World:
Sustainable Responses of the Asian Economies and Societies
Suggested topics and panel themes:
Energy security, use of renewable energy sources
Climate change, global water crisis
Political and economic challenges
Global value chains
Urbanization – smart cities
Interregional economic, trade and investment relations
Digitalization
Science, technology and innovation (STI) and social development
Migration
Important dates:
Abstract submission: February 19, 2023
Notification of accepted papers: February 22, 2023
Full paper submission: April 5, 2023
(If your paper is not received by the deadline, your name will be removed from the conference
agenda.)
Preliminary program: April 12, 2023
Conference date: May 5, 2023
Conference location: Budapest, Hungary
Organizer: Budapest Business School, Oriental Business and Innovation Center (OBIC)
Registration with the submission of the abstract shall be done at this page.
The conference website is available at the following link: https://www.obic-bbs.hu/en/obic-conference-2023/
We have also prepared a short video with the help of some of our previous participants, which can offer you a quick insight into the event and its atmosphere.