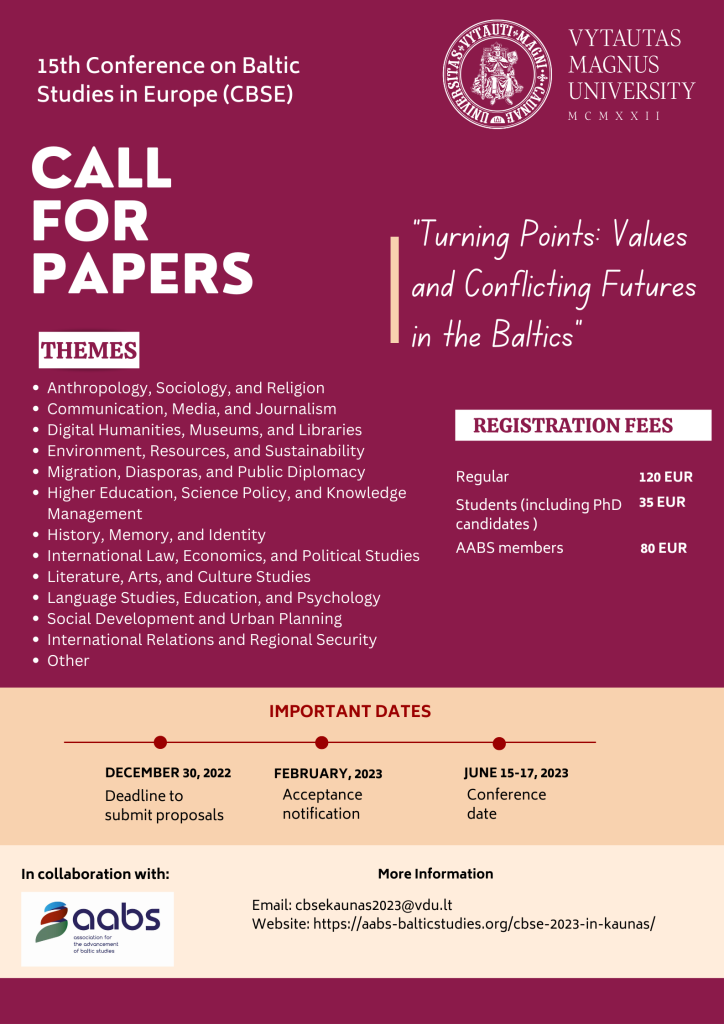 Vytautas Magnus University, in cooperation with the Association for the Advancement of Baltic Studies (AABS), is pleased to announce the 15th Conference on Baltic Studies in Europe (CBSE) "Turning Points: Values and Conflicting Futures in the Baltics," which will be held on 15-17 June 2023 in Kaunas, Lithuania.
In 2023 the Conference on Baltic Studies in Europe (CBSE) will be held in Kaunas, at Vytautas Magnus University for the second time. As in previous years, the 15th CBSE will cover a diversity of themes and disciplines as we consistently demonstrate and promote the achievements of Baltic studies in various areas. CBSE will bring together scholars from all disciplines and stages in their careers world-wide who share an interest in exploring the Baltic region from multiple perspectives and fields of research.
Contributions are encouraged from disciplines including:
Anthropology, Sociology, and Religion
Communication, Media, and Journalism
Digital Humanities, Museums, and Libraries
Environment, Resources, and Sustainability
Migration, Diasporas, and Public Diplomacy
Higher Education, Science Policy, and Knowledge Management
History, Memory, and Identity
International Law, Economics, and Political Studies
Literature, Arts, and Culture Studies
Language Studies, Education, and Psychology
Social Development and Urban Planning
International Relations and Regional Security
Other
We invite you to submit the proposals for individual papers, thematic panels, roundtable discussions, and book presentations here until December 30th, 2022.
For more information, please visit our website: CBSE 2023 in Kaunas – AABS (aabs-balticstudies.org)
Contact us via Email: cbsekaunas2023@vdu.lt or follow on Facebook.