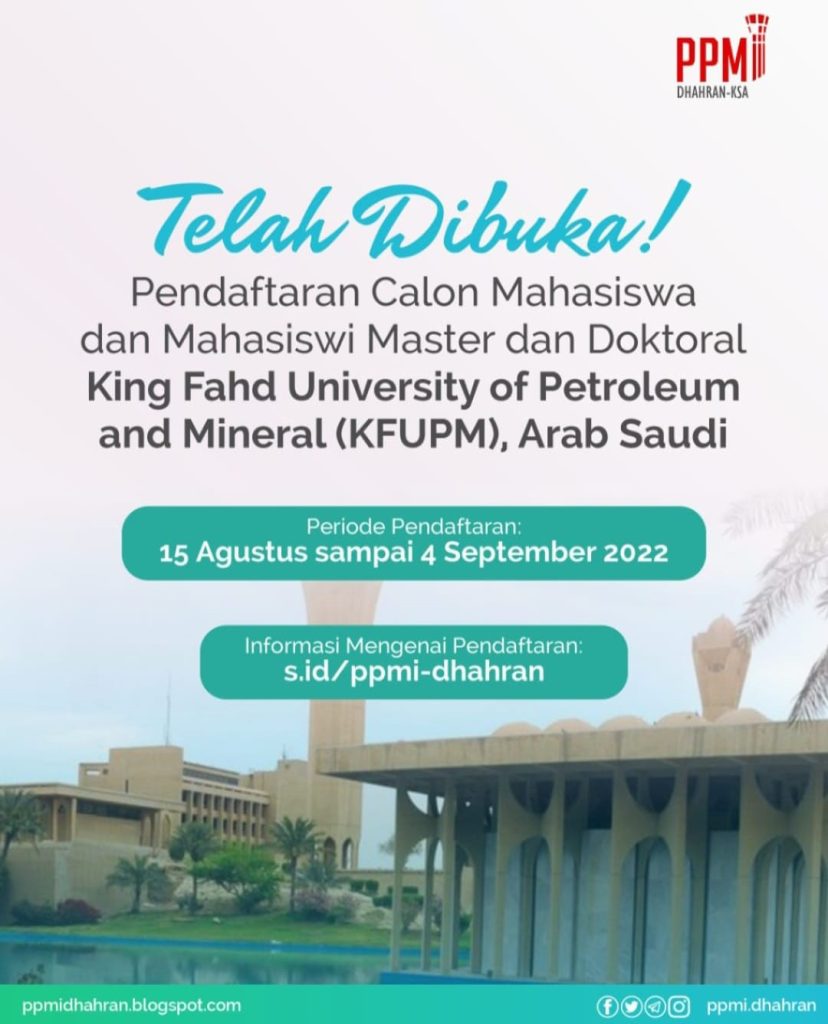 KFUPM welcomes new outstanding and talented prospective graduate students from around the world to apply for Graduate Studies.
The University currently offers 32 Master programs and 11 Doctoral programs in a full range of traditional disciplines and interdisciplinary programs
that anticipate market trends and respond to national needs. KFUPM provides full MS and Ph.D. scholarships for distinguished graduate applicants who
demonstrate high potential for conducting original research in Engineering, Sciences, and Business.
For further information please visit here
Graduate Scholarships:
Two types of assistantships are offered to enroll Master students:
Graduate Assistantship: Open to exceptional Saudi Graduate Assistants continuing MS degrees at KFUPM, who display outstanding performance in their
Bachelor education.
Research Assistantship: Open to national and international Master students, whose performance is exceptional in their Bachelor education.
All graduate admissions are administered by the Deanship of Graduate Studies (DGS). Candidates who intend to enroll in graduate programs at the University need to submit an online application available on the website of DGS http://www.kfupm.edu.sa/deanships/dgs/Default.aspx
The online application is available only during the application periods according to the posted application deadlines on the link http://www.kfupm.edu.sa/deanships/dgs/Pages/en/Application-Deadlines.aspx
The graduate admission is open twice a year for the two semesters: The Fall Term (usually starting in September) and the Spring Term (usually starting in February)
Mandatory documents for application
(without which application will not be processed)
1. Copy of identification (National ID for Saudi nationals / Passport for international applicants / Iqama for residents of Saudi Arabia).
2. Complete official transcripts for BS degree and MS degree (if applying to PhD).
3. Statement-of-Purpose (a one-page essay focusing on career and research goals).
4. Recommendation Letters from 3 Professors through the online recommendation system after submitting the online application.
5. GMAT scores for MBA program (for international applicants).
6. CV mentioning briefly education and work experience.
7. Color Photograph with White Background.
Other supporting documents
(needed for final admission decision)
1. Certificates for BS degree and MS degree (if applying to PhD).
2. TOEFL score (min. is 68 iBT for MS and 79 iBT for PhD).
3. Acceptable GRE General score (min. Quantitative is 156, min. Analytical is 4.0).
4. Upon approval, original/certified copies of degree certificate(s) and transcript(s) are to be sent through postal mail.
Application Deadlines
The online application is available only during the application periods according to the posted application deadlines on the link
http://www.kfupm.edu.sa/deanships/dgs/Pages/en/Application-Deadlines.aspx