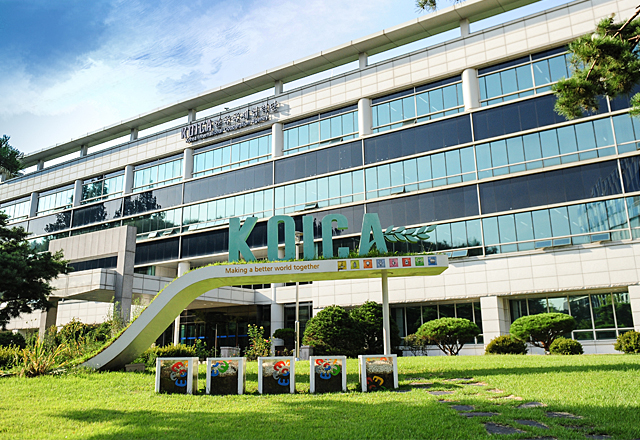 KOICA (Korea International Cooperation Agency) was established as a governmental agency dedicated to providing grant aid programs of the Korean government. KOICA endeavours to provide aid in accordance with the economic, social, and cultural situations of every developing country in order to achieve sustainable development.
In support of the joint response to global issues (poverty, gender equality, climate, change, human rights, etc.), KOICA has carried out multilateral development cooperation projects primarily in countries lacking in or excluded from aid and areas with ongoing conflicts, utilizing the expertise and networks of the international organizations to supplement existing two-party bilateral aid. The aim is to establish strategic partnerships with international organizations to create synergy.
KOICA Indonesia office represents a living history of KOICA. In 1991, the Korean government established the KOICA Headquarter and its first regional office in Jakarta, Indonesia. We have a great sense of pride that the KOICA Indonesia office added a page to the history of KOICA.
Over the last three decades, the total volume of KOICA's aid to Indonesia reached 226 million USD while we have provided a variety of development programs, grant aid projects and technical cooperation, which includes training programs and volunteer activities.
As we continue to adapt to the fast-changing development environment of Indonesia, KOICA now refocuses our efforts in the field of economic development, transport infrastructure, public administration, water resource management, climate change response and sustainable environmental protection in accordance with the National Development Plan of Indonesia. (http://www.koica.go.kr/sites/idn_en/index.do#n http://www.koica.go.kr/sites/koica_en/index.do )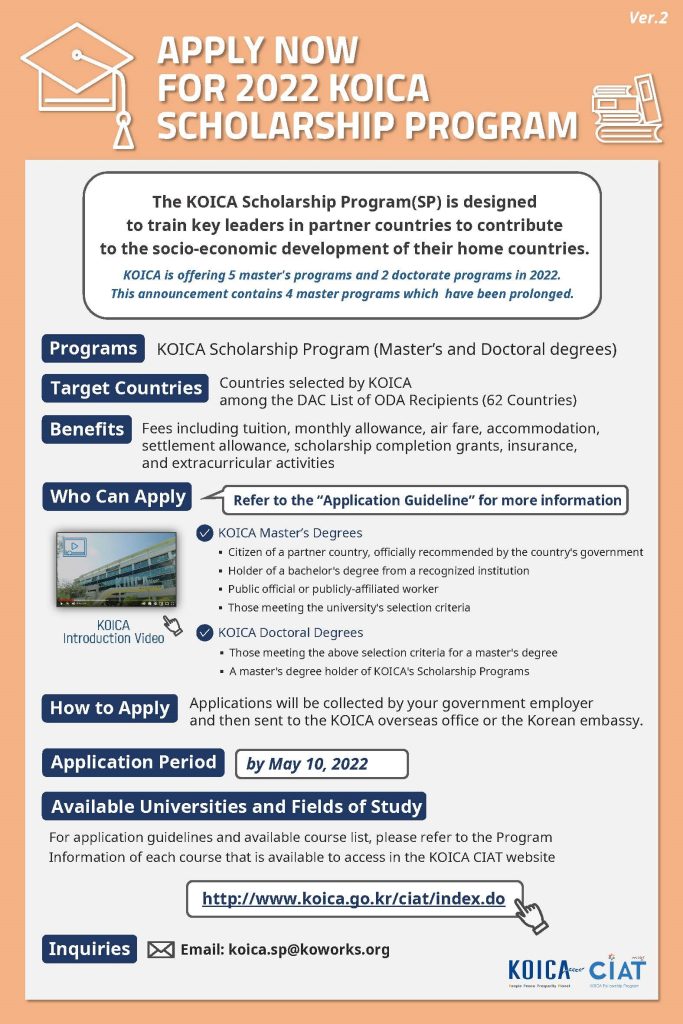 How to request for Fellowship Program (CIAT scholarship)
Indonesia Office welcomes that you are taking into consideration to apply for KOICA Fellowship Program. Also known as the Capacity Improvement & Advancement for Tomorrow (CIAT) scholarship, CIAT aims to share development experience and know-hows with the public officials from partner countries.
To better serve your needs and request, we would like to encourage you to take note of the following steps when you wish to apply for fellowship program through KOICA Indonesia Office.
Identify program
Check the Ministry of National Development Planning/National Development Planing Agency website, and as additional reference, KOICA Indonesia website or Facebook page for relevant information on the program. Please carefully check the qualification required and conditions of the training course.
Complete the application form
Download and fill up the application form, either type or hand written (preferably in English)
Documents required for submission:
Legible copy of passport
Official nomination letter from Ministry of National Development Planning/National Development Planing Agency
Medical report
Copy of university degree
Copy of curriculum vitae
KOICA application form includes a "Medical Section" which requires legalization from Ministry of health
* KOICA Indonesia Office and Ministry of National Development Planning/National Development Planing Agency upload necessary forms on their websites when new fellowship program is open for application.
Submit application form
Submit the completed application form to Ministry of National Development Planning/National Development Planing Agency with all required documents.
Review application form
Once all applications are submitted through Ministry of National Development Planning/National Development Planing Agency, KOICA Indonesia Office will initially review the qualification of the applicants according to its selection criteria.
Notify accepted participants
After applications are approved, KOICA Indonesia will report back to the accepted participants.