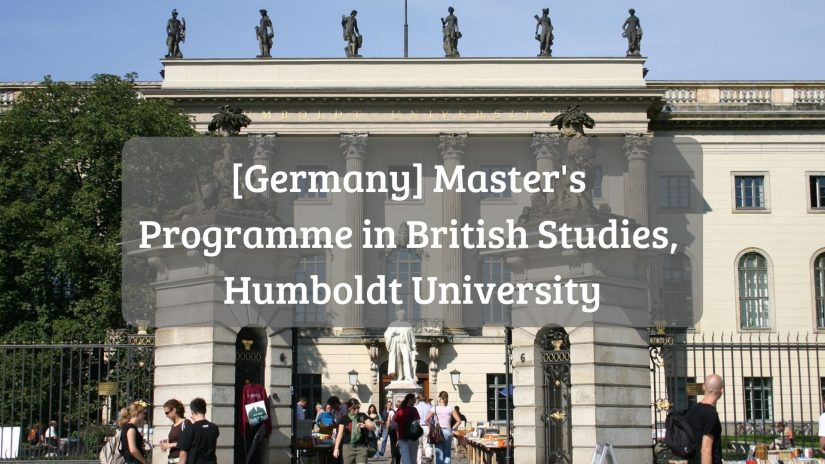 Good news! Humboldt University in Berlin awaits your arrival in Germany!
Humboldt University's Centre for British Studies has opened its application for M.A. degree in British Studies with intake on October 2022. The Master's programme combines law, politics, history, media, literature and culture in its studies and includes a work placement in the UK. All classes in this programme will be conducted in English.
Eligibility
Applicants should have a good first university degree in any subject
Applicants are required to have a very good knowledge of English with a working knowledge of German is advisable
Required Documents
Curriculum Vitae
A statement of motivation (around 500 words)
A certified copy of applicant's secondary school leaving certificate which qualifies for university studies
A certified copy of applicant's university degree certificate
A certified copy of grade transcripts
English proficiency test: IELTS minimum score 7.0; Cambridge Certificate of Advanced English grade A or B; TOEFL minimum score 600 for the paper-based test, 250 for the computer-based test and 100 for the internet based test
Scholarship
This program takes no tuition fee! However, applicants who are still in need of a scholarship are advised to apply to institutions such as the German Academic Exchange Service, the Alfred Toepfer Stiftung, etc.
Application Deadline: April 30th, 2022
Further Details: https://www.gbz.hu-berlin.de/ma-british-studies/admissions
IMPORTANT NOTES
The FINAL decision is from Humboldt University. If you need a recommendation letter from Universitas Gadjah Mada, please submit your application to UGM International Exposure Application Form: http://ugm.id/IntExposureApplication