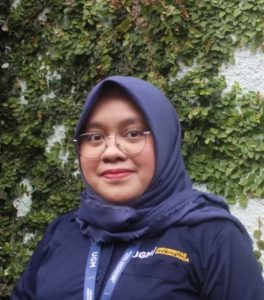 English
Participating in student exchange abroad is the dream of many students in the world. One of the parties involved in this activity is the Office of International Affairs (OIA) UGM, also known as Kantor Urusan Internasional (KUI) UGM. Besides managing the student exchange process of UGM students abroad, OIA also helps international students who become exchange students at UGM.
Wa Ode Siti Latifatul Malik (Tifa Malik), known as Mbak Tifa, is a coordinator at OIA who has a big responsibility for exchange students from abroad at UGM. She has a position as Incoming Exchange Coordinator. In this division, Mbak Tifa does not seek exchange partners from overseas universities but helps international students register at UGM.
She explained, "The essence of exchange is that university partners accept our students (UGM), and we accept their students."
As the Incoming Exchange Coordinator, Mbak Tifa and her staff help international students who have been nominated by their home universities. They are assisted by reviewing requirements in the admission system, such as academic needs and visa processing. If these exchange students have received a Letter of Acceptance, they will get a SIMASTER account which is then handed over to the faculty where they study at UGM.
Mbak Tifa was not starting her career in OIA as a full-time worker. In 2018, she enrolled as a part-time worker at OIA as a final semester student majoring in International Relations while completing her undergraduate thesis. Apart from being the Incoming Exchange Coordinator, Mbak Tifa also handles all OIA social media, which are Instagram, LinkedIn, Twitter, Tiktok, and Line. She admits that joining OIA has positively affected her, especially in gaining relationships and opening a broad mindset. 
Bahasa Indonesia
Mengikuti pertukaran pelajar ke luar negeri adalah impian banyak mahasiswa di dunia. Salah satu pihak yang terlibat dalam kegiatan ini adalah Office of International Affairs (OIA) UGM atau yang dikenal juga sebagai Kantor Urusan Internasional (KUI) UGM. Tidak hanya mengurusi proses pertukaran pelajar yang dilakukan oleh mahasiswa UGM ke luar negeri, OIA juga membantu mahasiswa internasional yang menjadi exchange students di UGM.
Wa Ode Siti Latifatul Malik (Tifa Malik) yang dikenal sebagai Mbak Tifa adalah coordinator di OIA yang memiliki tanggung jawab besar terhadap lancarnya kegiatan exchange students dari luar negeri di UGM. Beliau memiliki posisi sebagai Incoming Exchange Coordinator. Pada divisi ini, Mbak Tifa tidak mencari exchange partner dari universitas mitra luar negeri UGM, tetapi membantu mahasiswa internasional dalam mendaftarkan diri ke UGM.
Beliau menjelaskan, "Esensi dari exchange adalah partner universitas menerima mahasiswa kita (UGM), dan kita menerima mahasiswa mereka"
Sebagai Incoming Exchange Coordinator, Mbak Tifa dan para stafnya membantu mahasiswa internasional yang telah dinominasikan oleh universitas asal. Mereka dibantu dengan di-review keperluan di sistem admisi, seperti kebutuhan akademik dan pengurusan visa. Apabila exchange students ini telah mendapatkan Letter of Acceptance, mereka akan mendapatkan akun Simaster kemudian diserahkan kepada fakultas tempat mereka belajar di UGM.
Pekerjaan full-time Mbak Tifa ini bukanlah awal dari karirnya di OIA. Pada tahun 2018, beliau mendaftarkan diri sebagai part-time worker di OIA sebagai mahasiswa jurusan Hubungan Internasional semester akhir sembari menyelesaikan skripsinya. Selain menjadi Incoming Exchange Coordinator, Mbak Tifa juga meng-handle semua sosial media OIA, yaitu instagram, linkedin, twitter, tiktok, dan line. Beliau mengakui bahwa bergabung di OIA membawa pengaruh positif bagi dirinya, terutama dalam mendapatkan relasi sehingga membuka mindset yang luas.