As the climate crisis is increasingly critical, the push towards new and renewable energy is more urgent than ever. We have been too comfortable with the fossil fuel-based economy, but now, energy transition is the matter of now or never. Countries in the Global South are taking a greater stride towards a world with clean energy, yet, the multidimensional side effects alongside this still haunt, and consequently, stall this endeavour. How do we understand and overcome these dynamics?
Given this urgency, FISIPOL International Short Course (FISCO) 2021 will bring the theme "The Dynamics of New and Renewable Energy in the Global South" and invite YOU to take part in this one-month course assisted by international experts through various learning methods. Kindly refer to the poster attached, as well as the information here: ugm.id/FISCO2021, to find out more! Reach out to us through email: fisco.fisipol@ugm.ac.id and/or Instagram: @fisco.ugm, as we would be more than happy to assist you!
Scholarship available for the first 40 international registrants! Climb aboard and let's take on an insightful journey with FISCO 2021!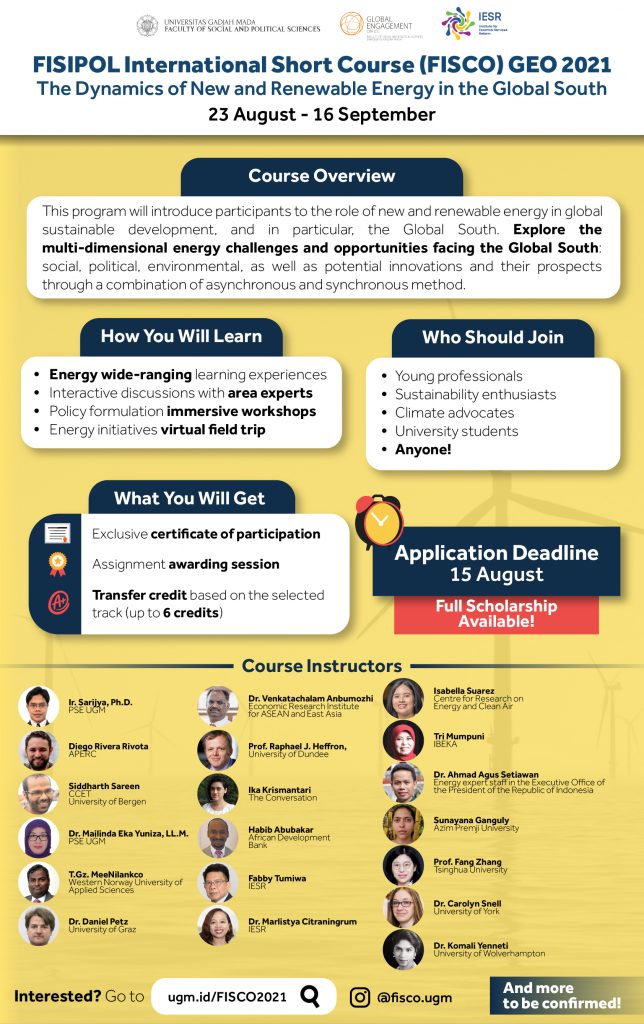 Period      : August 23th – September 16th, 2021
Website  : http://fisco.fisipol.ugm.ac.id/
Contact   : geo.fisipol@ugm.ac.id/
Sign up for the program at: www.admission.ugm.ac.id
If you have any issues in registering, kindly contact:
Office of International Affairs UGM
Email: admission@ugm.ac.id