MMAT 2021 Summer Course Program
Southeast Asia is not a mere geographical space with a passive role in the international arena. Instead, the region has continued to be an active agent to engage in the international political discourse that covers the political, economic, social, and cultural dynamics, as well as, security issues. The image of Southeast Asia as an actor that is capable of becoming an agent, is reflected in the political decision taken by the leaders of Southeast Asian countries to define and to present themselves as one single community, which is the ASEAN Community. Ironically, the level of interest and the number of studies conducted by academics regarding Southeast Asia is less developed inside the region. 
Responding to this situation, Center for Southeast Asian Social Studies (CESSAS) UGM developed the initiative to organize the workshops on "Teaching & Researching Southeast Asia" or MMAT Program started in 2014. This year, MMAT 2021 Summer Course Program calls for students, foreign students, professionals/researchers/lecturers, and multiple participants to join our Summer Course Program on the topic "Re-constructing Southeast Asia"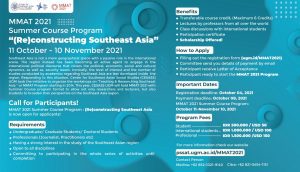 Benefits of the Program:
Certificate of Participation

Transfer Credit (equivalent to 6 credit)

Experience of studying (online) with international lecturers

Networking from all over the world

Expand your knowledge and perspective with curated lecturers and experts in the field of Southeast Asia region
Important Dates:
Period: October 11 – November 10, 2021
Registration deadline: October 04, 2021
Payment deadline: October 08, 2021
Website: pssat.ugm.ac.id/MMAT2021
Register for the program at: ugm.id/MMAT2021
Scholarship available for selected 40 international registrants! 
If you have any inquiries, please kindly contact: 
Mellinia : +62 852-1021-9140
Citra : +62 821-5454-1151
Download the TOR here