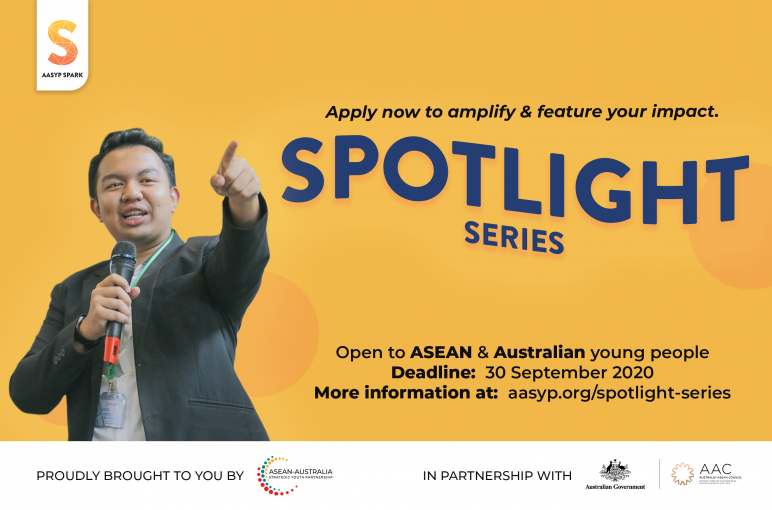 Warm greetings from AAYSP Secretariat!
The AASYP Spotlight Series is part of Spark's resource and inspiration hub, dedicated to highlighting the incredible work that young people are doing across ASEAN and Australia. The Program is looking for young leaders who are creating an impact in their community to be featured in a professional video interview about their passion projects and their journey as changemakers.
The program is looking for young people who are:
18-29 years old from Australia or ASEAN
Creating a tangible impact in their community or in their field of work or study
Demonstrating leadership qualities and initiative
Eager to share their story to inspire others
AASYP will select 11 young people from across ASEAN and Australia to feature in our Spotlight Series. Application and nominations are due on 30 September. Selected applicants will be advised by 5 October.
If you are selected as one of the 11 feature young leaders, AAYSP Secretariat will organize to produce a professional short video that highlights your impact and shares key learnings from your social impact journey to inspire other young leaders to create change. AAYSP Secretariat will work with you to film in October, in conjunction with a local videographer and translator, if required.
The Spotlight Series will form part of the AASYP Spark resource hub, which aims to equip and inspire young people to begin creating an impact in their communities. The Series will go live at a special launch event hosted by AASYP at the end of November. The Spotlight Series is supported by the Australia-ASEAN Council.
Further information:
https://aasyp.org/spotlight-series/
Required Documents for UGM Nomination
Scan of Student ID
Official Academic Transcript
Other documents that applicants send to AASYP in the registration form.
Application Procedure
Register yourselves to AASYP directly through https://cdn.jotfor.ms/202229088986871
Submit the aforementioned documents to UGM International Exposure Application Form: http://ugm.id/IntExposureApplication no later than September 20th, 2020 for internal review.
OIA staff will evaluate your application. Once you are selected as Nominated Applicants, OIA will send your official nomination to AASYP.
The FINAL decision from AASYP.