Hello Runners!
Under the spirit of our 70's campus Anniversary, We are inviting you to join our annual running event "UGM INTERNATIONAL TRAIL RUN" – (ITR) 2019. This is the first time UGM conduct this event at Wanagama Eco Edu Forest, Gunungkidul, to give the participants beautiful views. This event will be held on 13th October 2019.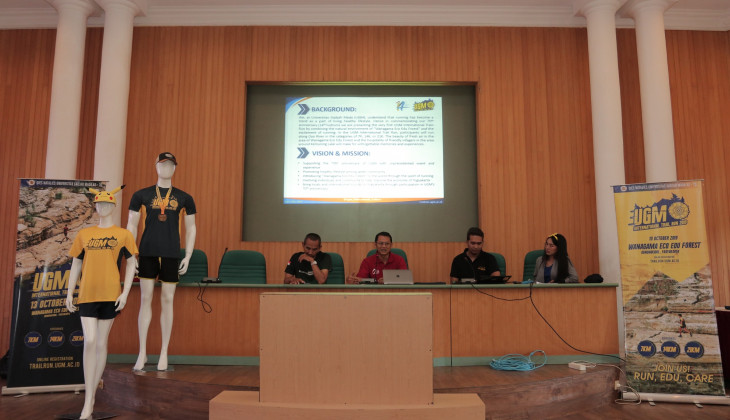 There are 3 categories for the running venue. 7 km, 14 km, and 21 km. The trail run arena is designed not to require special expertise so that all people can participate, especially beginners. All runners will cross natural trails such as rivers and forest areas in Wanagama Eco Edu Forest, Gunungkidul, Yogyakarta.
The Head of the Office of International Affairs UGM, I Made Andi Arsana, S.T., M.E., Ph.D., said that the reason for choosing Wanagama as a running venue was because there was an inner bond and had very important meaning for UGM. Wanagama in its journey was once a barren land by a lecturer at the Faculty of Forestry UGM which was planted for the first time and continues to be cared for by UGM academics to grow up until now.
"Wanagama, this forest is very unique to UGM, not just forests but there is a process of education about how UGM cares about the environment," he said, at the UGM Multimedia Room, Wednesday (4/9) during a press conference.
Andi said this event selection is because it has become a community lifestyle at this time. This is a very positive lifestyle people loved today and UGM wants to be part of the interests of many people.
"UGM wants to be part of a large community, it does not want to stand alone like an ivory tower, UGM wants to unite with the community and then start what people like, and Running to be a choice," he said
Meanwhile, Nugroho, a representative of Kagama Lari Untuk Berbagi (KLUB) said the running event was not only for the sake of sports but also for sharing with others. If in the first year after this group formed, KLUB succeeded in collecting donations to be given to underprivileged students, then in the second year KLUB would like to be more useful to communities outside UGM.
For this time, the KLUB mission is sharing and focusing on raising donations for disability. KLUB will set aside the funds from registration and fundraising to be donated to foundations that are engaged to help people with disabilities such as the Cikal Foundation and the Yantumis Foundation.
Whilst Rustian from Trail Runner Yogyakarta (TRY) said that there would be a lot of experience gained by runners who took part in the 2019 UGM International Trail Run. compared to the same event in other places, UGM ITR 2019 can be a fun run, extra fun with a little wet experience because they have to cross the river twice, run across the riverbank and can get good photos.
Come and join us at this running event and get your priceless experiences here!