This Summer Course Program is the Program that offers you as international students who interested in animal science and agriculture, and working with the farmers. We provide a truly international experience in fantastic program, with English language and activity programs that ensure the students return home after a summer they will never forget. As with friendly Indonesian students during the academic year, international students attending summer program will enjoy a huge variety of experiences inside and outside the classroom, all shared with other students.
For more information, visit here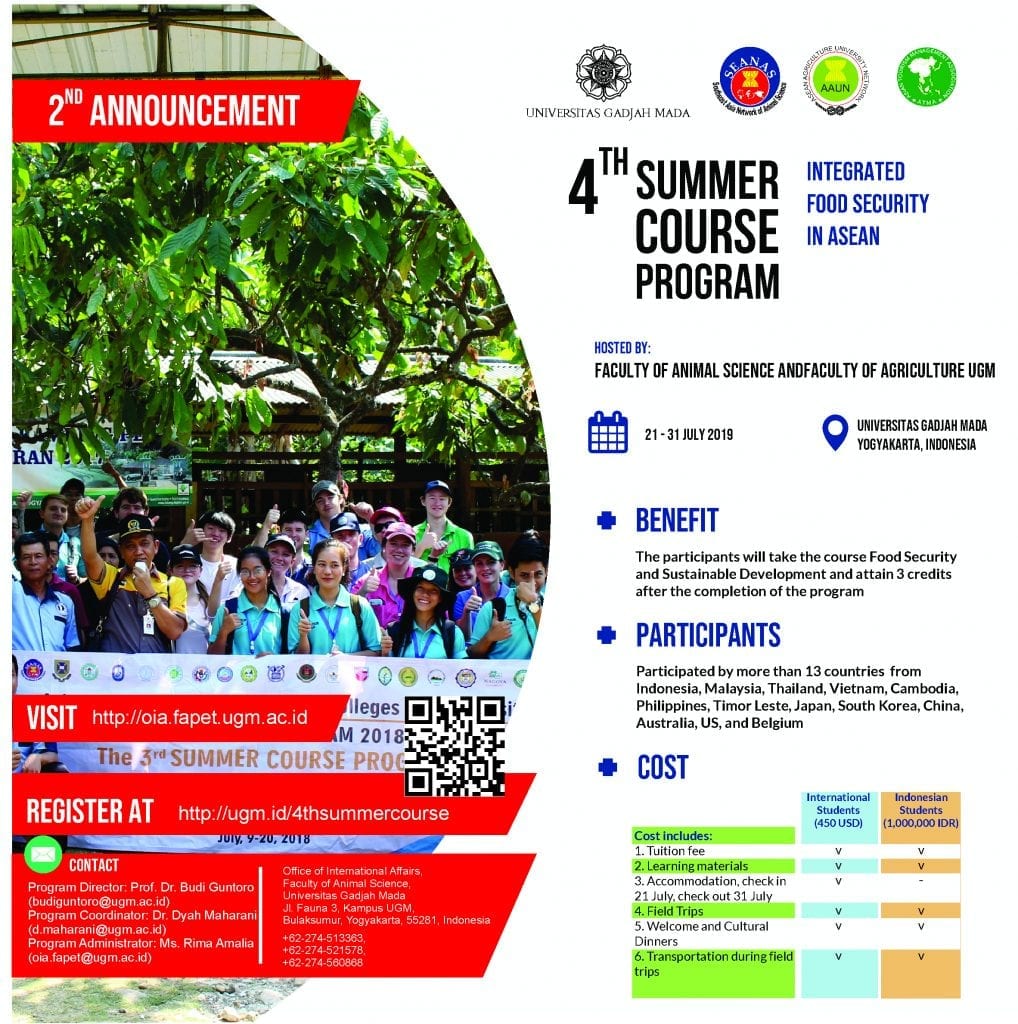 Program Description
Indonesian Language and Culture : Our team of instructors will help you to learn Bahasa Indonesia and become familiar with the local blend of Indonesian multi-cultures in this short period of time, within a supportive framework.
Exploring Javanese Culture : Our program offers a series of English based lectures and field trips that allow you to explore specific environmental and sociocultural aspects of Javanese, visit ancient culture environment such as Borobudur (the biggest Buddhism temple in the world, which was built in 9th century), making Batik (the traditional patterns), and traditional dance learning experience.
Outdoor learning: Livestock and Agricultural Activities: Field trips give you a direct understanding of rural livestock and agricultural activities of Javanese, while other trips are organized outside of Yogyakarta for an in-depth exploration of our diverse nation.
Class Room Lectures : Some theories and principles in animal science and agriculture are delivered by Professors who are experts in this field.
International Buddy : Each program offers a number of well-trained UGM students who can provide support for any problem you may encounter during your summer program.
Time 
Date: 21 – 31 July 2019
Place
Yogyakarta, Indonesia
Course Topic
Concept of Sustainable Livestock/Agricultural Development
Introduction to Food Security
Impacts of climate change on food production from Animal
Food systems and food chains
Introduction to Animal Genetics
Environmental Challenges: Scarcity and Conflict in the Natural Environment
Food Security Case in Vietnam
Post-production technology
Egg and milk technology
Research and Innovation in livestock and agriculture
Introduction to Indonesian Culture and language
How to Apply
Fill in the Application form
The administration will verify your application and please submit the following documents through email oia.fapet@ugm.ac.id. with subject  4th Summer Course Program Application:
Passport copy: colored, valid within 8 months since the program begin
Profile Picture: colored, white background
Letter of Recommendation from University/Faculty/Academic Supervisor