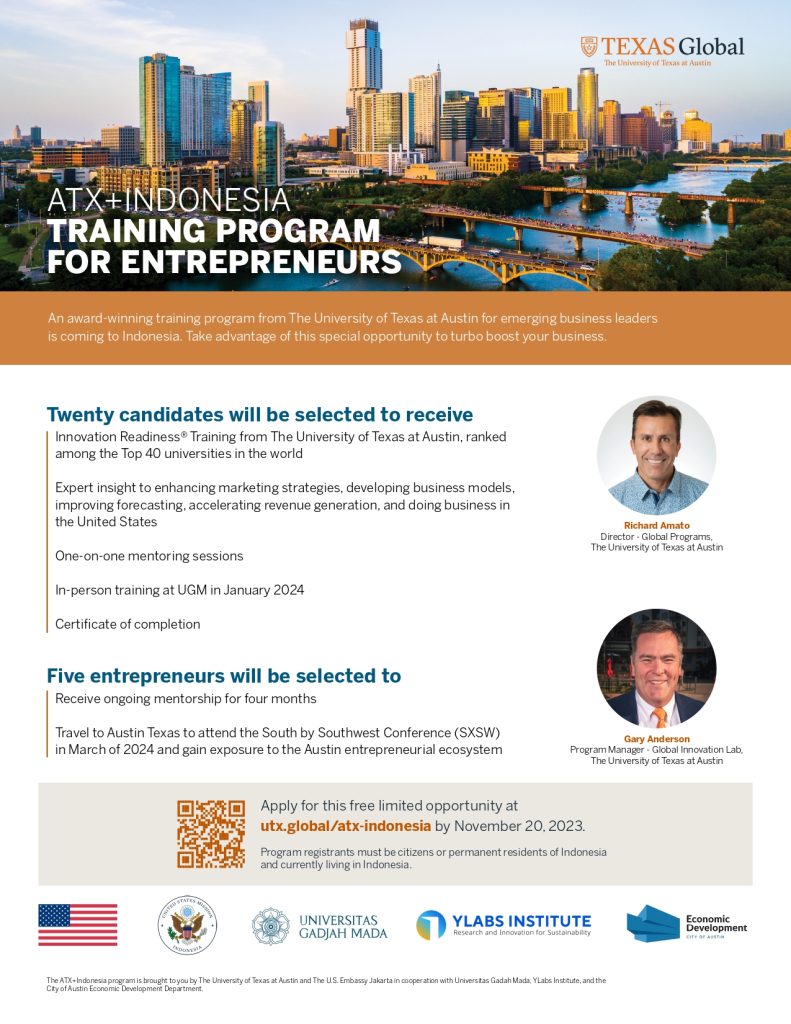 Hi Indonesian Entrepreneurs!
Interested in learning more about business operations in the U.S.? Want a chance to attend the SXSW Conference in Austin, Texas?
Texas Global The University of Texas at Austin proudly present:
ATX+INDONESIA Training Program for Entrepreneurs
Developed by The University of Texas at Austin, this program offers to empower emerging business leaders with Innovation Readiness® Training, essential insights into U.S. business operations, and individualized mentoring sessions. Elevate your business acumen with this transformative opportunity.
Together with Universitas Gadjah Mada and YLabs Institute as co-implementing partner in Indonesia, we will select 20 selected participants to receive:
Innovation Readiness® Training from the University of Texas at Austin (Top 40 university worldwide)
One-on-One Mentoring
In-Person Training at Universitas Gadjah Mada in January 2024
Completion certificate
We will also select 5 Standout Entrepreneurs to receive:
4 months of mentorship
Chance to attend the South by Southwest (SXSW) Conference in Austin, Texas (US) on March 2024
This program is free and open for all, with the following requirements:
1. Indonesian Citizen (WNI)
2. Preferably those with a business MVP or already running a business in any field
3. Good english proficiency level
4. Commitment to participate in all program activities from start to finish
Register your team at utx.global/atx-indonesia by November 20, 2023, at the latest!
For more information about this program, please find below the brochure program or visit ylabs-institute.id. May you have any problems with the application process, please send us an email to innovators@ylabs.id or (+62) 822 – 2691 – 2521. Good luck and see you in Yogyakarta and Texas!