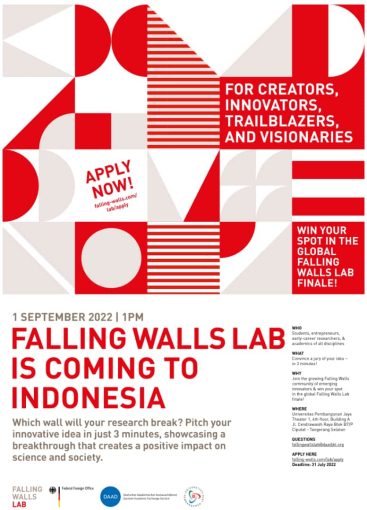 Falling Walls Lab is a world-class pitch competition, networking forum, and stepping stone that brings together a diverse and interdisciplinary pool of students and early-career professionals by providing a stage for breakthrough ideas both globally and locally. The multifaceted formats support participants in driving their innovations and developing their communication skills, fostering collaboration and creating a space for the impactful and sustainable community to thrive.  
Indonesia is one of more than 60 countries that organizes this competition. This year marks the eight years of DAAD as a main organizer of Falling Walls Lab Indonesia. Supported by the Ministry of Foreign Affairs of the Federal Republic of Germany, DAAD Regional Office Jakarta in collaboration with Universitas Pembangunan Jaya is organizing Falling Walls Lab Indonesia, a competition that is open for undergraduate students to postdocs, from lecturers to entrepreneurs. Thus, we invite you and your students, colleagues, and acquaintances to take part in Falling Walls Lab Indonesia 2023. Applications can be submitted online via https://falling-walls.com/lab/apply/indonesia/apply/ until 9 July 2023. 
The Falling Walls Lab Indonesia 2023 will be held on: 
Date : Thursday, August 31, 2023 
Time: 13.00 – 16.00 (WIB/GMT+7) 
Location: Pembangunan Jaya University – Theater 1, 4th Floor, Building A 
For more information about Falling Walls Lab and application, please visit: https://falling-walls.com/lab/apply/indonesia/. The winner of this year's Falling Walls Lab will be invited to represent Indonesia in Falling Walls Lab Final in Berlin in November 2023. 
CONSULTATION INFO
If you have any questions regarding this program, you can contact us in OIA's office hour:
Virtual consultation: https://ugm.id/AppointmentOIAUGM