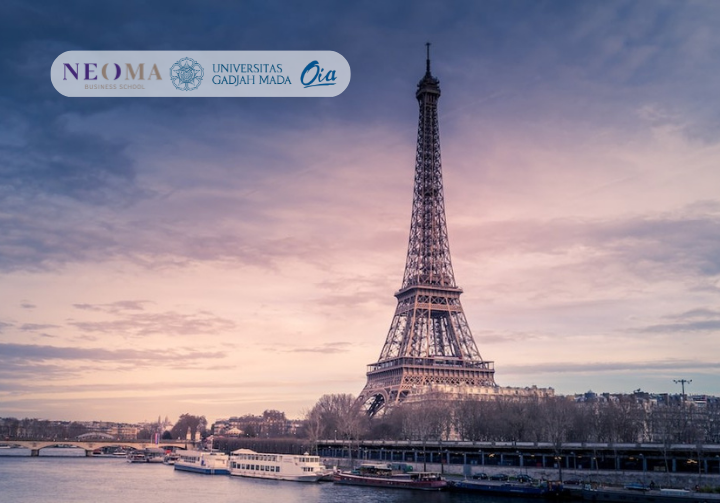 Greetings from NEOMA Business School!
NEOMA Business School is a highly regarded French business school with campuses in Rouen, Reims, and Paris. It was founded in 2013 following the merger of two leading business schools, Rouen Business School and Reims Management School. NEOMA Business School offers a wide range of undergraduate, graduate, and executive education programs in business, management, and finance. The school has a strong international focus, with over 80 nationalities represented among its students and a network of more than 300 partner universities around the world. NEOMA Business School is accredited by AACSB, EQUIS, and AMBA, which are the three leading international accreditation bodies for business schools.
We are pleased to inform you that the application for NEOMA Business School Summer Program 2023 is now open for Universitas Gadjah Mada students.
SPORT FEDERATIONS AND MAJOR EVENT MANAGEMENT PROGRAMME
Over the last 8 years France has organized no fewer than 12 World championships and 13 European championships, including the UEFA EURO 2016, the Ryder's Cup in 2018 and the Woman's Football World Cup in 2019. This impressive achievement continues with the Rugby World Cup in 2023 and the largest mega sporting event in the world : the Olympic Games in 2024. With Major sporting partners, NEOMA Business School has created the Sport Federations and Major Events Management programme giving participants a solid insight into the French success story event management and the European sport industry. The Summer short programme will be a great opportunity for students interested in a career in sport management or for students wishing simply to know more about this global and dynamic industry.
Included in this programme

:
Lectures by NEOMA BS faculty and guest faculty members ;

2 Guest speakers from sport industry and Federations ;

Visits and extra-curricular activities.
Application Deadline

: May 31st, 2023

Course dates

: JUNE 19TH– JULY 7TH, 2023

Campus

:  ROUEN from June 19 to June 28 AND PARIS from June 29 to July 7, 2023. The programme is divided between both cities. It is not feasible to study for only one part of the programme : both parts in both cities have to be studied.

Credits

: 12 ECTS

Fees

: €2,000 (tuition fees and activity fees included / excluding lunch, housing and flights)

Website

: https://neoma-bs.com/programmes/sport-federations-and-major-events-management-summer-programme/ 
Available pre-programme webinars

:
April 27th, 2023 8:00AM (French Time)

April 27th, 2023 6:00PM (French Time)
HOSPITALITY AND GASTRONOMY PROGRAMME
NEOMA BS and FAUCHON, combining expertise from one of Europe's top-ranked business school and one of the most successful world-renowned French gastronomy brands are launching this new and exciting programme in 2023. What better place to develop expertise in this sector than to study in Paris, the heart of world gastronomy and hospitality. France is the most visited country in the world, where expertise and prestige go together to make Paris the ideal place to learn more about this innovation, ever-growing sector of activity.
Included in this programme

:
Lectures and Hospitality visits by FAUCHON professionals and NEOMA Alumni ;

Visits of the Ecole FAUCHON (Rouen), the FAUCHON Hotel and a FAUCHON Outlet (Paris).
Application Deadline

: May 31st, 2023

Course dates

: JUNE 10TH– JULY 21ST, 2023

Campus

:  The programme starts in Rouen and then continues in Paris)

Credits

: 9 ECTS

Fees

: €2,500 (tuition and activity fees included / excluding lunches, lodging and flight cost)

Website

: https://neoma-bs.com/programmes/fauchon-hospitality-and-gastronomy-summer-programme/?programme   
Please contact NEOMA Business School at summerwinterprogram@neoma-bs.fr for further detail.
CONSULTATION INFO
If you have any questions regarding this program, you can contact us in OIA's office hour: