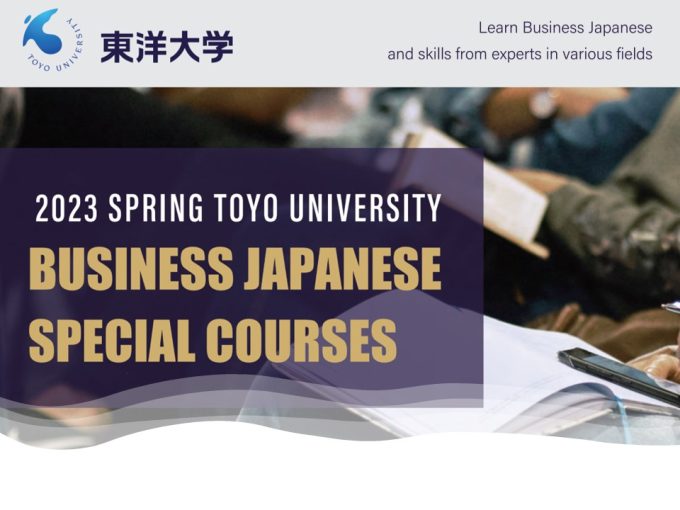 Greetings from Toyo University, Japan!
Toyo University will hold a free online  "Spring Business Japanese Special Course ", inviting experts from various fields, from Feb 7th to Feb 13th. Toyo University welcomes students studying Japanese at universities in Japan and overseas, the foreigners working at Japanese companies, and those who are studying business Japanese in overseas countries/regions as long as they have Japanese ability equivalent to JLPT N2. They can choose to attend only one course or multiple courses.
This course will teach you about the Japanese language, cultural understanding, business etiquette, and other skills that are necessary in business scenarios. This course is also online using Webex as the platform.
This is a fantastic opportunity to learn from specialists in each profession about topics that have been carefully chosen. It also includes exam preparation for the "BJT Business Japanese Proficiency Test" (Japan Kanji Aptitude Testing Foundation), which will aid overseas students in their job search.
This training will be extremely useful if you plan to take the BJT exam. You have the freedom to select any of the 14 courses that interest you. Don't miss out on your chance to gain a deeper grasp of business Japanese and culture, which you may apply to your future career development.
Application details
Fee : Free(some courses may require additional fees)
Application deadline: February 02, 2023 (JST)
Capacity:  1,000 participants per lecture (first-come-first-served basis)
Please click here to apply
Important Notes
Courses will be conducted in Japanese only.
You can get the details about the course schedule, course outline, and lecturer introduction, etc from the flyer (download).