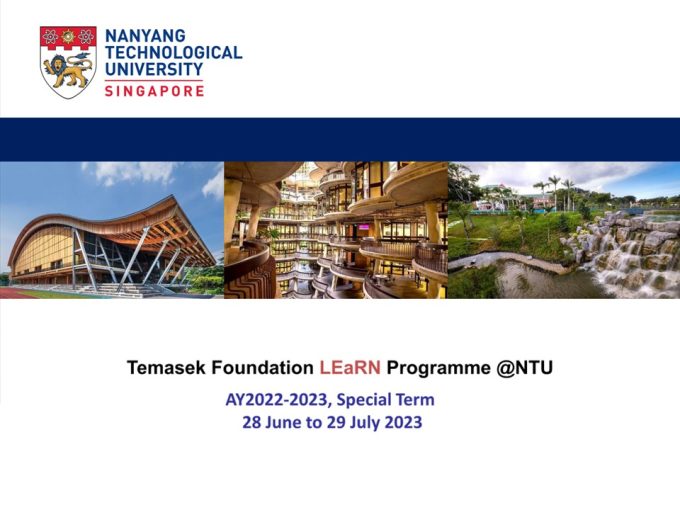 Greetings from Nanyang Technological University, Singapore (NTU)!
Sponsored by Temasek Foundation and NTU, the TF LEaRN @NTU Summer Scholarship Programme provides a global learning experience for talented ASEAN undergraduates with good academic standing and leadership potential to participate and learn alongside a group of international students from varied cultures and Singaporean students from NTU and other Singapore autonomous universities.
The TF LEaRN @NTU Summer Scholarship Programme 2023 is focused on students' development of key competencies for their advancement. The main Academic Pillars that form the global learning of this Programme are:
(I) Role and Impact of Asia in the World (Singapore's Perspective) and Intercultural Competence, and
(ii) Professional Development and Occupational Success in the 21st Century.
There are two segments to the program (28 June – 29 July) in Singapore and Bangkok, Thailand.
Singapore segment: 28 June to 18 July 2023
Outbound segment in Bangkok, Thailand: 19 to 29 July 2023
For more detailed information please take a look at the Info Sheet.
TF LEaRN @NTU Programme Details
TF LEaRN @NTU Programme Brochure
Please view the program brochure here.
TF LEaRN @NTU Information Sheet
Please refer to the attached information sheet for the application procedure.
TF LEaRN @NTU Award
Each successful candidate shall receive a study award worth SGD5,300, and it covers the following:

Singapore:

Program fee at NTU (Tuition and sociocultural activities)
Accommodation

Thailand:

Program fee at Thailand (Tuition, sociocultural activities, and corporate visits)
Accommodation

Financial award of SGD1,500 as:

subsidy for airfare from home country to Singapore, Singapore to Bangkok, and then Bangkok back to home country
stipend for the duration of the program
Eligibility
Open to nationals of member countries of ASEAN (except Singapore) to pursue a multi-location short-term program with NTU.
Applicants must be full-time Undergraduate students in one of NTU exchange partner institutions.
Have completed at least two (2) semesters of study at home university, with proof of results.
NTU will only review student applications that are nominated and formally submitted to NTU Office of Global Education & Mobility Education (OGEM) by the International Relations Office of partner institutions.
Applicants should possess the following:
a) An excellent academic record – within the top 5% of cohort
b) A very good command of the English Language (see "English Proficiency Requirement" on page 9)
c) Hold leadership positions in any of the university student activity clubs and/or involved in community service
d) A Recommendation Letter from a faculty of their home institution and a CV of the nominee's accomplishments.
Requirements
Please check the Info Sheet pages 6–7.
Required Documents
Letter of Nomination from faculty (*addressed to Head of Office of International Affairs)
Certificate of Enrollment from the faculty
Choice of at least 10 undergraduate courses for NTU School's review.
Scanned copy of the latest official transcript (signed by the Registrar and includes home university's seal) in English, reflecting all courses taken in PDF format (<600kb).
Clear, coloured passport-size photo in JPEG format (<60kb; 400(W) x 514(H) pixels)
Scanned copy of passport information page in JPEG format (<200kb). We need this information to prepare your Student Pass application. Your passport must be valid for at least 6 months from the commencement of the program at NTU.
Up-to-date Curriculum Vitae (CV) in PDF format (<600kb)
Proof of English proficiency (e.g. GCE 'A' Level General Paper, IELTS, TOEFL, SAT1, IB, and MUET)
A 200-word letter written by the applicant on why he/she deserves to be part of the TF Intl LEaRN program. (List the leadership roles that you are currently undertaking, including involvement in any form of social or community service. In the application portal, look for the tab "Attachments", then upload your letter under "Other Documents".)
A Recommendation Letter from a faculty of the home institution and an outline of the nominee's accomplishments. (Upload your letter under "Other Documents".)
Application Procedure
Submit the aforementioned documents to UGM International Exposure Application Form: http://ugm.id/IntExposureApplication no later than January 20, 2023, for internal review.
OIA staff will evaluate your application.
Once you are selected as Nominated Student, you can proceed with the online application.
FINAL decision from NTU.