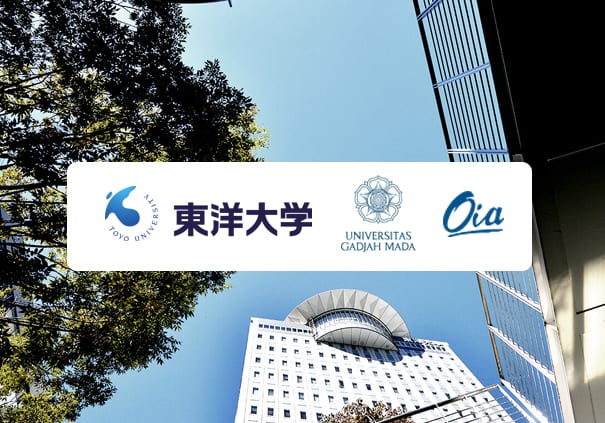 Greetings from Toyo University, Japan!
Dr. Enryo Inoue started Toyo University as a private "Philosophy Academy" in 1887. Dr. Inoue developed a vision of education that argued that the foundation of all learning rested in philosophy, in light of Japan's then-confused status following the introduction of Western influences. He intended to benefit society by strengthening the ordinary people's capacity to engage in such intellectual activities as contemplation, conception, and judgment through the teaching of philosophy based on fundamental and logical thought.
We are pleased to inform you that the application for Japanese Language Program (Online) 2023 is now open for Universitas Gadjah Mada students. This program is designed for those who have studied Japanese up to a certain level and have acquired basic comprehension to understand simple/direct messages in Japanese. 
Program Duration
February 20th to March 3rd

90 Minutes x 2 classes for 10 days (Weekdays Only )
Program Fee
 35,000 JPY/person (approx. 250 USD) 
Important Dates
Application deadlines : January 20th

Acceptance date* : January 23rd

Payment deadline : January 27th
Eligibility 
Enrolled in Universitas Gadjah Mada during the program (Undergraduate or Graduate)

GPA requirement: 2.5/4.0 scale

have completed the beginner's Japanese class/CEFR A2.

are able to read hiragana & katakana.

want to be proactively involved in Japanese conversation during the class.

obtain 60 points or more in the placement test.
**This program is self funded
Application Procedure
Finish the application to Toyo University directly. (

Application is possible via this

link

) before

20th January 2023
IMPORTANT NOTES:
Submission of all documents to the Office of International Affairs UGM is not mandatory. It is only for students who would like to get the official nomination/recommendation from UGM. Therefore, the submission to Samara University directly is enough. 
In case the faculty could not provide the letter of enrollment and nomination during this period, the official nomination through email from the faculty is acceptable. The official nomination could be delivered to head-oia@ugm.ac.id (cc to scholarship@ugm.ac.id)