Greetings from Mahidol University!
Mahidol University is now open for the position of Adjunct Professor (Part-time or full-time) who would like to work with our professor, lecturer, or researcher. The Adjunct Professor position is open to any academic discipline. Please find full details about the Adjunct Professor position and online registration form at https://op.mahidol.ac.th/ir/adjunct-professor.
Please note that after your submission, Mahidol will circulate your information and match your research works/publications with a suitable professor, lecturer, or researcher from our faculties/institutes/colleges.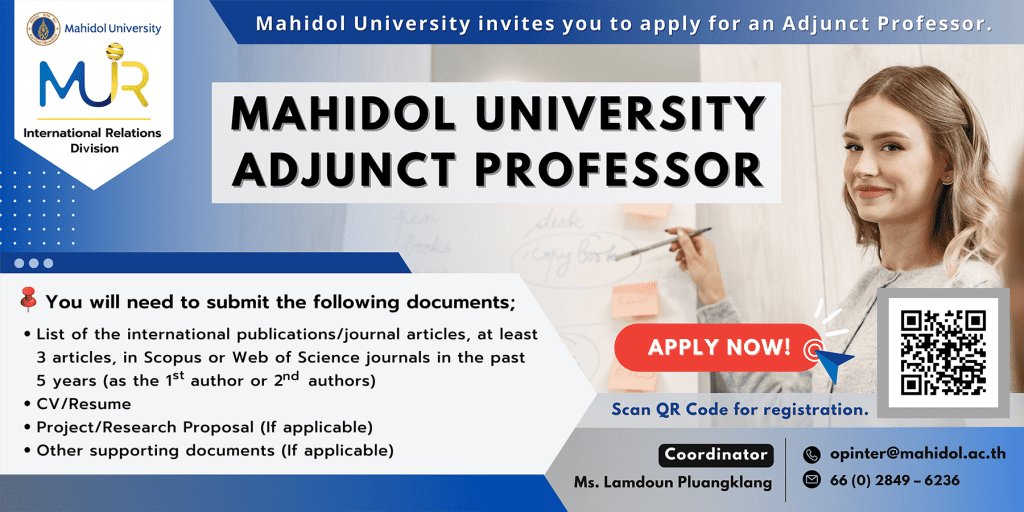 Qualifications:
Not being affiliated with Mahidol University
Holding a doctoral degree or equivalent, or being a qualified person with knowledge, ability, experience, and expertise in research, academic service, or teaching in a specific field as determined by Mahidol or UGM.
Being affiliated with an educational institution, a national research institution, or a research institution in a foreign country that is internationally recognized, or in any international organization that is recognized both domestically and internationally.
Having research papers published in international academic journals continuously for the past five years.
Being involved with academic, research or academic services with Mahidol or UGM