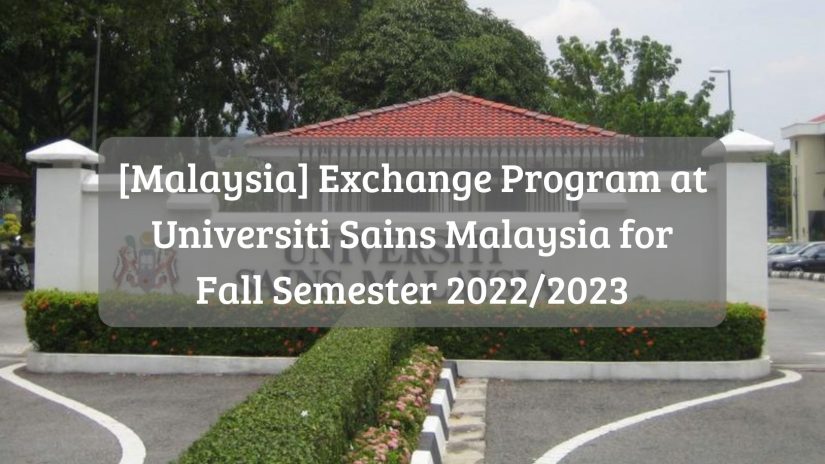 Good news coming from Universiti Sains Malaysia, Malaysia!
Universiti Sains Malaysia (USM) has opened the application of its exchange program for Fall Semester (17th October 2022 – 26th February 2023). USM is known as the second oldest university in Malaysia, first established in 1969 as Universiti Pulau Pinang. What unique about USM is that the university adopts the School system rather than the traditional Faculty system in order to ensure that its students are multi-disciplined from their exposure to other areas of study. As of today, USM is recognized as one of Malaysia's Research Intensive Universities.
Eligibility
Student coming from one of USM's partner universities who has received nomination
Documents Requirement*
An up-to-date certified academic transcript with translation if necessary
A Confirmation Letter to prove that the applicant is enrolled as a full-time student
A copy of student's matriculation card
English Proficiency Test result if English is not applicant's first language
A Recommendation Letter from Academic Advisor
Curriculum Vitae
Portfolio (if applying for creative design-based courses)
Disability support details (if needed)
A fully completed Course Registration/Learning Agreement signed by home institution
A copy of your photo (white background; size 4,5 x 3,5 cm)
A clear copy of the Details Page of Passport
*applicant is required to know the nearest Malaysian Embassy to apply Singe Entry Visa (SEV) for later use
Nomination Procedure
The nomination deadline from USM is at 10th June 2022. Please submit your nomination request to OIA UGM before 1st June 2022 by submitting the aforementioned documents through http://ugm.id/IntExposureApplication
OIA UGM will send the nomination to USM.
Students will complete the registration process afterwards by themselves.
Application Deadline: 15th June 2022
Further information on USM and documents related to the application (including the Application Form) can be accessed through https://bit.ly/USMFall22Application