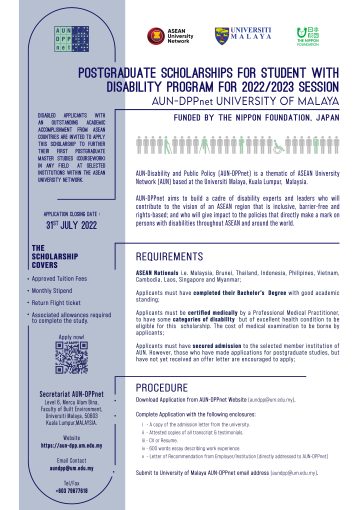 Greetings from AUN-DPPnet!
AUN-DPPnet was endorsed at the 32nd AUN Board of Trustees Meeting in Phuket, Thailand in 2016 as the twelfth thematic of ASEAN University Network, Bangkok.  The University of Malaya, Malaysia serves as the secretariat of AUN-DPPnet. 
AUN-DPPnet aims to build a cadre of disability experts and leaders who will contribute to the vision of an ASEAN region that is inclusive, barrier-free and rights-based; and who will give impact to the policies that directly make a mark on persons with disabilities (PwDs) throughout ASEAN and around the world.
Several programs and activities centered around capacity building and public policy learning have been set up by AUN-DPPnet to bolster its mission. With the financial support from The Nippon Foundation of Japan, AUN-DPPnet provides Postgraduate Scholarships to Students with Disabilities to pursue their Master degrees in a wide range of programmes in ASEAN's universities.
We are happy to announce that Postgraduate Scholarships to Students with Disabilities is now open.
Eligibility
ASEAN Nationals i.e. Malaysia, Brunei, Thailand, Indonesia, Philippines, Vietnam, Cambodia, Laos, Singapore, and Myanmar

Applicants must have completed their Bachelor's Degree with good academic record

Applicants must be certified medically by a professional medical practitioner, to have some categories of disability but of excellent health condition to be eligible for this scholarship. The cost of medical examination to be borne by applicants

Applicants must have secured admission to the selected member institution of AUN. However, those who have made applications for postgraduate studies, but have not yet received an offer letter are encouraged to apply
Scholarship Coverings
Approved tuition fees

Monthly stipend

Return flight ticket

Associated allowances required to complete the study
Procedures
Download Application from AUN-DPPnet Website.

Complete Application with the following enclosures:
A copy of the admission letter from the university.

Attested copies of all transcript and testimonials.

CV or Resume.

600 word essay describing work experience.

Letter of Recommendation from Employer or Institution to be addressed directly to AUN-DPPnet.
Submit to University Malaya AUN-DPPnet email address.
Important Notes
Submit the documents to University of Malaya AUN-DPPnet email address (aundpp@um.edu.my)

no later than July 31st, 2021.
The FINAL decision of participants is from AUN-DPPnet . No nomination needed from OIA UGM. But if you need a nomination letter from Universitas Gadjah Mada, please submit your aforementioned documents through http://ugm.id/IntExposureApplication