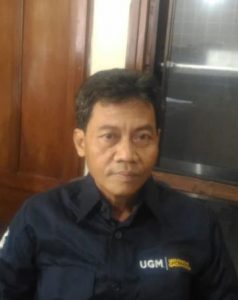 English
Immigration is not simply about getting permission to enter and stay for a period of time in another country. There are some unavoidable needs like making an account in a local bank or getting a driver's license from the police and some others. These sound like another headache (of course), but for overseas students to fully explore their time in foreign lands there is not much of a choice.
Thankfully, the Office of International Affairs (OIA) UGM is also prepared to help students manage that. Through the Immigration Team, Mr. Ruddy (Pak Ruddy) is the one in charge of handling local administrative dealings. He arranges stay permits in Yogyakarta Immigration Office and provides recommendation letters for students so that they are given easier time in processing the permit as well as other aforementioned needs above. Pak Ruddy underlines that although his main focus is on local administration, the demand for zero mistake is the same as it is with national-level immigration procedures.
Facing such a high-demand job does not make Pak Ruddy feels any pressure as it turns out he has done it for decades now. He joined OIA UGM back in 1987 so he has 35 years of experiences! The next year will be his last year on duty.  
When asked about his impression on years working at OIA UGM, Pak Ruddy says that OIA UGM has always delivered its best services, be it to assist international students or to spearhead UGM in reaching out for more partners around the world. Pak Ruddy also shares his gratitude for the comfortable working environment that OIA UGM has built for its employees. He says that everyone in the office has a sense of strong kinship. This is further supported by the office's homey environs. For you who have no idea, OIA UGM's office is located in lecturers' settlements at Bulaksumur F13. So the homey condition mentioned by Pak Ruddy is in a literal sense. Hahaha!
Bahasa Indonesia
Imigrasi tidak hanya persoalan memperoleh izin masuk dan tinggal sementara di negara lain. Ada juga keperluan lain yang tentunya tak terhindarkan seperti membuka rekening di bank lokal atau mengurus Surat Izin Mengemudi (SIM) dan banyak lainnya. Hal ini terlihat bak ribet dan pusing yang lekat dengan kepengurusan imigrasi, tetapi bagi pelajar internasional yang ingin secara penuh menikmati waktunya di negeri asing tentu tak ada pilihan lain.
Untungnya, Kantor Urusan Internasional (KUI) UGM juga siap untuk membantu pelajar asing dalam mengurus kebutuhan-kebutuhan ini. Melalui Tim Imigrasi, Pak Ruddy adalah yang bertanggung jawab menangani administrasi lokal. Tugas utama beliau adalah mengurus izin tinggal langsung di Kantor Imigrasi Yogyakarta dan membuat surat rekomendasi yang akan mempermudah para mahasiswa asing dalam mengurus izin serta keperluan resmi lain yang telah disebutkan sebelumnya. Pak Ruddy menyampaikan bahwa meski fokus beliau ada di administrasi dengan pihak lokal, tuntutan bebas kesalahan dalam pekerjaan tetap saja ada seperti halnya dengan kepengurusan imigrasi di tingkat nasional.
Menghadapi pekerjaan dengan tuntutan tinggi tidak membuat Pak Ruddy merasa tertekan apalagi mengingat dirinya telah menekuni pekerjaannya selama bertahun-tahun. Pak Ruddy rupanya telah bergabung dengan KUI UGM sejak tahun 1987, jadi beliau punya 35 tahun pengalaman bekerja! Tahun depan akan menjadi tahun terakhir dalam pengabdiannya.
Ketika ditanya mengenai kesan selama bekerja di KUI UGM, Pak Ruddy menuturkan bahwa KUI UGM telah bekerja secara maksimal dari tahun ke tahun, baik itu dalam mengakomodasi pelajar internasional maupun dalam memperluas jangkauan kemitraan UGM dengan mitra-mitra di seluruh dunia. Pak Ruddy juga menyampaikan rasa bersyukurnya atas lingkungan kerja yang nyaman di KUI UGM. Teman-teman kerja di kantor semuanya memiliki rasa kekeluargaan yang kuat. Hal ini juga didukung oleh suasana kantor yang seperti rumah. Bagi kalian yang belum tahu, kantor KUI UGM ada di wilayah perumahan dosen di Bulaksumur F13. Jadi, suasana rumah yang disebut Pak Ruddy adalah secara harafiah juga. Hahaha!