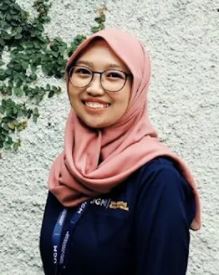 English
Turning up with us this time to spill more interesting stories from OIA UGM is Astiti Nareswari (Mba Asti) as the Program Coordinator for Outgoing Visitation and Consortium. Kudos!
In the organizational structure, Mba Asti's position places her in the Networking Division Team. Her role though, one might say, is quite unique compared to her peers. As the other PICs are charged with managing visitation from university partners, Mba Asti's responsibilities are the opposite of that. Mba Asti is in charge of arranging UGM's upper echelon staffs (rector, vice-rectors, etc) on their consortium visits abroad. From taking care of visa requests to checking flight schedules, she makes sure that our university's delegations' travels on making more partnerships with overseas educational institutions are all smooth.
So, basically, Mba Asti is UGM's private travel agent? Well, that is the joke! Hahaha! Though, of course, the job is no cupcakes. Dealing with the international immigration procedure itself is not easy, let alone one intended for a Civil Servant. Additional permission from the Ministry of State Secretariat is required for it. There is also the unspoken pressure of being trusted to oversee matters involving high-profiled figures, thus leaving no room for mistakes. However, Mba Asti revealed that the main key to withstand her high demanded job is to set a good timeline, to follow procedure consecutively, and to always be ready.
As for now, with the world still having an ongoing pandemic and travel abroad is much restricted, Mba Asti's has been taking a two-year (and still counting) break from all those headaches. She now mainly guides online consortiums between UGM and its overseas partners. Nonetheless, she hopes for the COVID-19 pandemic to be over soon and for the situation to be back to normal.
At the end of the talk, Mba Asti urged for interns currently helping in OIA UGM (and by extension all UGM students) to not be afraid of taking as many opportunities as possible, even ones not related to the major the students are studying now. Work competition is up high and there is no telling what fortune the future holds. Best be prepared and ready for anything!
Bahasa Indonesia
Bersama kita kali ini untuk membocorkan lebih banyak cerita menarik dari KUI UGM adalah Astiti Nareswari (Mba Asti) selaku Koordinator Program untuk Perjalanan Dinas dan Konsorsium. Kudos!
Dalam struktural organisasi, posisi Mba Asti berada dalam Tim Divisi Jejaringan. Tetapi, tugas dari Mba Asti dapat dikatakan unik bila dibandingkan dengan rekan satu tim lainnya. Sementara Koordinator atau Penanggung Jawab lainnya bertugas mengurus kedatangan universitas mitra, kewajiban Mba Asti adalah kebalikannya. Mba Asti berperan dalam mengurus tugas dinas atau pertemuan konsorsium di luar negeri dari para pejabat tinggi di UGM (rektor, wakil rektor, dll). Mulai dari mengurus izin visa hingga memeriksa jadwal penerbangan, Mba Asti adalah yang memastikan perjalanan delegasi dari UGM dalam menggali hubungan mitra dengan institusi pendidikan di berbagai penjuru dunia berjalan lancar.
Jadi, secara teknis, Mba Asti semacam agen perjalanan pribadi UGM? Begitulah candaan yang ada! Hahaha! Kendati demikian, pekerjaan Mba Asti tentunya tidak gampang. Menangani prosedur imigrasi atau kunjungan internasional sendiri sudah sulit, apalagi ketika kunjungannya dilakukan oleh Pegawai Negeri Sipil (PNS). Ada prosedur tambahan yang perlu diikuti dari Kementerian Sekretariat Negara. Tak lupa juga ada tuntutan tersendiri dari dipercaya menangani urusan yang melibatkan pihak-pihak penting, artinya tak ada ruang untuk kesalahan. Mba Asti tetapi menyebutkan bahwa kunci untuk menangani pekerjaannya yang memiliki tuntutan tinggi adalah dengan menetapkan jadwal yang baik, mengikuti prosedur secara urut, dan selalu siap.
Pada saat ini, dengan dunia yang masih dilanda pandemi dan perjalanan ke luar negeri yang masih banyak dibatasi, Mba Asti bisa sedikit lebih rileks dan beristirahat dari segala pusing mengurus kunjungan dinas dari UGM. Tugasnya sekarang pun banyak beralih ke daring dengan mempersiapkan pertemuan virtual UGM dengan mitra-mitra internasionalnya. Namun, Mba Asti tentunya berharap pandemi COVID-19 bisa segera usai dan situasi kembali ke kondisi normal. 
Dalam akhir perbincangan, Mba Asti memberi pesan pada pada mahasiswa magang di KUI UGM (serta seluruh mahasiswa UGM) agar jangan takut mengambil kesempatan sebanyak-banyaknya, termasuk yang tidak berhubungan dengan jurusan yang sedang dipelajari. Persaingan kerja sangat ketat dan tidak ada yang tahu juga nasib apa yang akan ditemui di masa depan. Lebih baik bersiap diri untuk segala kemungkinan!