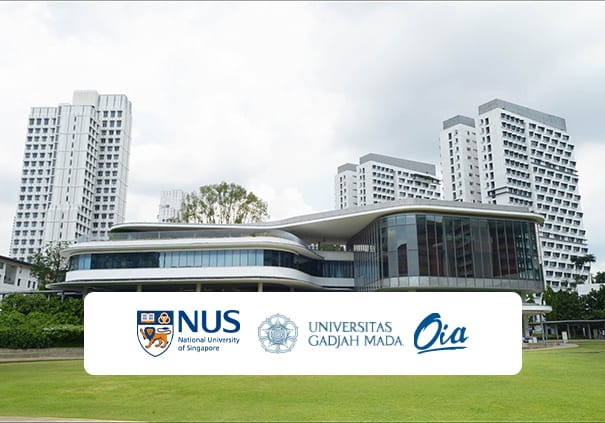 Greetings from the National University of Singapore!
The National University of Singapore (NUS) started out as a modest medical school with 23 students in 1905, founded by a determined group to serve the needs of the local community. Today, more than 100 years on, as Singapore's flagship university, the University continues to be in service of country and society. The National University of Singapore aspires to be a vital community of academics, researchers, staff, students and alumni working together in a spirit of innovation and enterprise for a better world.
We are pleased to inform you that the TF – NUS LEaRN Programme is now open for Universitas Gadjah Mada students.
With the aim to groom the leader in you, the TF – NUS LEaRN Programme nurtures the next generation of Asian leaders by providing opportunities for cultural exchange, networking, and leadership development. This 3 – weeks programme brings together 30 undergraduates from Southeast Asian countries this summer to Singapore to deepen your understanding about Holistic Resilience, Entrepreneurship, Technology, and Innovation. You will be joined by 30 Singaporean undergraduates to learn about the emerging field of Futures Thinking with a focus in Entrepreneurship, Innovation & Technology by the esteemed Lee Kuan Yew School of Public Policy and finally wrapping it up with a session uncovering how Holistic Resilience can prepare us for the future and success.
More information here!
Eligibility Requirements
1. Be fluent in English. Undergraduates from all majors are accepted.
2. Participants will need to be fully vaccinated. More details can be found here: https://safetravel.ica.gov.sg/vtl/faq#vaxcert
3. Full commitment to the programme. Participants who do not successfully complete the programme will need to pay the full programme fees.
Required Documents
Letter of Nomination from faculty (*addressed to Head of Office of International Affairs)
Official Academic Transcript
Curriculum Vitae
Motivation Letter
Certificate of Enrolment from faculty
Colored copy of passport
English language proficiency certificate (Min. Score of TOEFL – ITP=550, iBT 80 or IELTS 6.0)
Application Procedure
Submit the aforementioned documents to http://ugm.id/IntExposureApplication no later than 10 April 2022 for internal review and nomination.
OIA UGM will evaluate your application. Once you are selected as Nominated Applicant, OIA UGM will confirm your official nomination to National University of Singapore and you may proceed with further application procedures.
The FINAL decision is from National University of Singapore.
Application Deadline for Nominated Students: April 20th, 2022