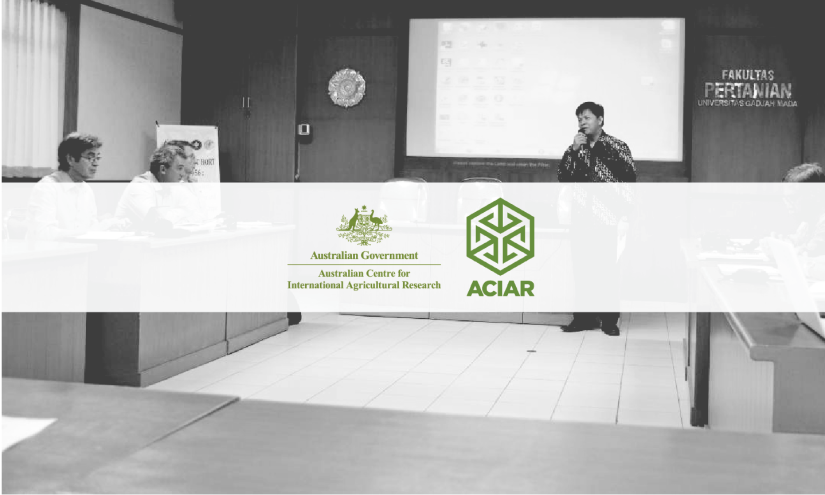 Overview
All countries in the Indo-Pacific region are grappling with the complex challenges of how to grow more food and reduce poverty using less land, water, and energy.
Since 1982 ACIAR has made a significant contribution to meeting these challenges.
By leveraging international agricultural partnerships, ACIAR seeks to promote more productive and sustainable agricultural systems for the benefit of developing countries and Australia.
Building on its soundtrack record, ACIAR's 10-Year Strategy 2018-2027 provides a clear direction for the organization into the future and remains closely aligned with the key objectives of the Australian Government's aid policy and the 2030 Agenda for Sustainable Development.
Our Work
As world leaders in agricultural research, Australian scientists are encouraged and supported to use their skills for the benefit of partner countries while at the same time contributing to solutions to meet Australia's own agricultural challenges.
The diversity of our own agriculture sector, which extends from the tropics to the arid zone, continues to thrive while operating in highly variable and challenging climates with minimal external subsidies.  This suggests the Australian agricultural sector has valuable knowledge and expertise to share with other countries facing similar challenges, including farmers, rural poor, consumers, researchers and policymakers.
Since 1982, ACIAR has supported research projects in four regions—eastern and southern Africa, East Asia, South and West Asia and the Pacific. Our research projects focus on agribusiness, climate change, crops, fisheries, forestry, horticulture, livestock systems, social systems, soil and land management and water. They deliver specific development outcomes.
To date, ACIAR has commissioned and managed more than 1,500 research projects in 36 countries, partnering with 150 institutions along with more than 50 Australian research organizations.
How we work
We broker, facilitate, invest in and manage strategic partnerships with public and private research institutions to improve the productivity and sustainability of agricultural systems and the resilience of food systems in partner countries.
ACIAR identifies opportunities and partnerships to undertake international agricultural research and capacity building but does not undertake research directly.
Our efforts contribute significantly to Australia's aid program and the achievement of its goals.
The collaborative international programs and partnerships underpinning ACIAR-supported research also improve the productivity and sustainability of agricultural systems in Australia.
ACIAR-supported projects are designed to produce specific research outputs that translate to development outcomes. Our six high-level objectives include: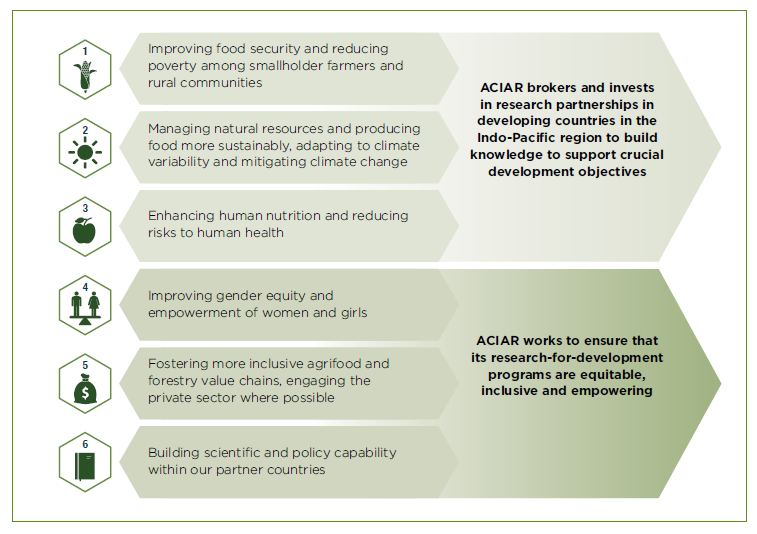 For more information please visit here
Strategy Review 2022
The Commission for International Agricultural Research has initiated a mid-term review of the 'ACIAR 10-​Year Strategy 2018 – 2027'.
ACIAR is now calling for written submissions from ACIAR partners and stakeholders for the Strategy Review 2022.