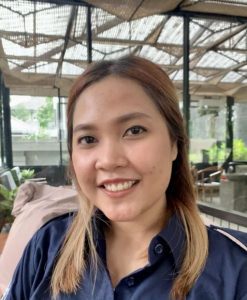 English
Many parties in Indonesia know the reputable collaboration between Universitas Gadjah Mada (UGM) and overseas universities. More than forty universities in Southeast Asia or ASEAN have established relationships with UGM. In addition, UGM is also part of the ASEAN University Network (AUN), so it has many international activities with other AUN members.
One of the figures behind this successful international cooperation is Cahya Wulandari, commonly called "Cahya." She serves as Program Coordinator for the ASEAN Region. She has been assigned to this position since 2019, starting with a collaboration with Singapore Management University for a summer school program.
As part of the Program Coordinator, Cahya has two communication tasks. First, external communication involves communication with partner agencies from abroad. Second, external communication involves parties at UGM, such as other units, faculties, and schools.
In this position, she emphasized the implementation of the Memorandum of Understanding (MoU) approved by UGM and its partner agencies from countries in Southeast Asia. This collaboration is carried out from the initial approval until they meet the specific partners, such as faculty or units at UGM.
The Program Coordinator for ASEAN Region is not Cahya's first position at the UGM's Office of International Affairs (OIA). She started her career in 2013 as a Hospitality & Promotion Staff, which made her experienced in helping international events at UGM and coordinating with the other Program Coordinators. 
Apart from working at OIA UGM, Cahya has other activities, namely doing her hobby by managing a small business in the culinary field. However, this activity did not disturb her position as a Program Coordinator.
Bahasa Indonesia
Kerja sama Universitas Gadjah Mada dengan universitas-universitas di luar negeri sudah dikenal sangat baik di kalangan masyarakat umum. Lebih dari empat puluh universitas di Asia Tenggara atau ASEAN telah menjalin hubungan kerjasama dengan UGM. Selain itu, universitas ini juga tergabung dalam ASEAN University Network (AUN) sehingga memiliki banyak kegiatan Internasional antar universitas.
Salah satu sosok di balik lancarnya kerjasama internasional ini adalah Cahya Wulandari atau yang biasa disapa "Cahya". Beliau menjabat sebagai Program Coordinator for ASEAN Region. Beliau mendapatkan tugas pada jabatan ini sejak tahun 2019 diawali dengan kerjasama dengan Singapore Management University pada kegiatan semacam summer school.
Sebagai bagian dari Program Coordinator, Cahya memiliki dua tugas komunikasi. Pertama, komunikasi eksternal yang merupakan komunikasi dengan instansi partner dari luar negeri. Kedua, komunikasi eksternal yang melibatkan pihak-pihak di UGM, seperti unit lain, fakultas, dan sekolah. 
Dalam posisi ini, beliau menekankan kepada implementasi dari Memorandum of Understanding (MoU) yang disetujui oleh UGM dan instansi-instansi partner-nya dari negara-negara di Asia tenggara. Kerjasama ini dilakukan sejak awal persetujuan sampai instansi mendapatkan kerjasama dengan fakultas atau unit di UGM. 
Program Coordinator for ASEAN Region bukanlah tugas pertama Cahya di Office of International Affairs (OIA) UGM. Beliau mengawali karir pada tahun 2013 sebagai Hospitality & Promotion Staff yang membuat beliau berpengalaman dalam membantu acara-acara internasional di UGM dan berkoordinasi dengan Program Coordinator per kawasan. 
Selain bekerja di OIA UGM, Cahya memiliki kesibukan lain, yaitu melakukan hobinya dengan mengelola usaha kecil-kecilan di bidang kuliner. Namun demikian, kegiatan ini tidak mengganggu pekerjaan beliau sebagai Program Coordinator sehingga beliau tetap dapat menjalankan pekerjaan di OIA dengan baik.